San Francisco City Hall Toolbox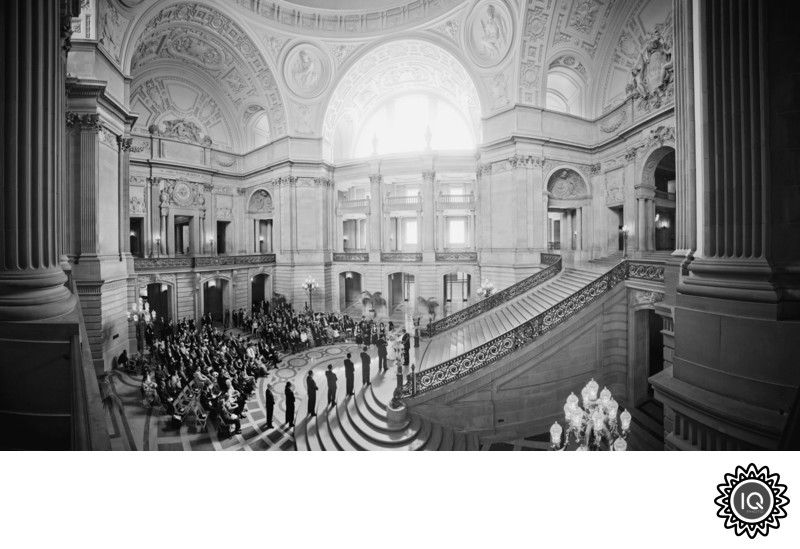 Welcome to SF City Hall toolbox page. We've created this page to help you with visiting right places to make a proper City Hall marriage license and ceremony reservation. The four links below are USEFUL ONLY for marriage license appointment as City Hall is still not taking Rotunda Ceremony reservations.
City Hall reopening date is unknown - What if you can't wait?
San Francisco will reopen soon but there is no update as of exact date. It depends on San Francisco Department of Public Health. It also important to note, that some COVID related protocols will be present. This means, guests may not be allowed, photography may be very limited and masks may be required. Luckily San Francisco offers a number of beautiful alternatives to a San Francisco City Hall. Here are our favorites - we compiled it after personally reaching out to over 100 venues.
Also, as of April 1st, 2021, Botanical Garden allows 25 guests and it's beautiful. Another good location is Palace of Fine Arts.
San Francisco Special Events Department
San Francisco Special events department allows something the County Clerk doesn't: rental space reservations. Compared to a regular Rotunda wedding, it is expensive ($1000) however, the big advantage of booking a rental space (Mayor's Balcony or 4th Floor) is privacy. Not only you will not be dependent on a County Clerk office schedule (and likely COVID restrictions) but you will have your own space for Ceremony and group and personal portraits.
Special Events Wedding Calendar
You will see a lot of yellow dots. Especially on Fridays. This means that someone made a tentative reservation and it is reflected by a yellow dot. This reservation normally can be challenged by submitting a deposit and if the other party do not fully book the date within 72 hours, the reservation will be transferred to you. This means you will take a reservation from someone who is not ready to fully commit. At this point, however, challenges are not possible (let us know if you find out otherwise).
The calendar however is a good indication of how busy City Hall will be when it reopens as most Fridays are booked throughout December! Someone even booked 02/21/22 already! Also 02-02-22 is half booked and 02-22-22 is fully booked.
Yes, the SF Special Events Department allows reservations 12 months in advance!
City Hall Events: 415.554.6079
Please save this page as we are going to add more useful staff here. Our general guide is here: "City Hall wedding guide"