Planning a San Francisco City Hall Wedding?
San Francisco City Hall truly encompasses everything you could want. Not only is it stunning and situated in the heart of the city, but it's also budget-friendly. The exceptional photo opportunities it provides are a standout feature. You'll be captivated by the detailed white marble and gilded bronze. The awe-inspiring interiors bathed in natural light will leave you breathless. Plus, planning a wedding in City Hall is a breeze!


How to get married at San Francisco City Hall
Organizing a wedding at City Hall is relatively straightforward, yet it demands meticulous planning and understanding. We've frequently assisted couples in arranging their wedding in just 10 minutes by contacting the appropriate City Hall department.
As experienced photographers who have captured numerous weddings in this stunning venue, we can guide you on how to efficiently plan your San Francisco City Hall wedding.
To ensure a seamless wedding experience, it's crucial to select the ideal ceremony time, find top-notch vendors, and make numerous additional decisions, such as finalizing a guest list, creating a wedding day schedule, and potentially reserving a reception venue.

1. What are the steps to plan a City Hall wedding?2. What are the requirements for a City Hall marriage?
3. Is an appointment necessary for a City Hall wedding?
4. How to choose the perfect location within City Hall?
5. What are the costs associated with a City Hall wedding?
6. What is the duration of a City Hall wedding ceremony?
7. How can I find a skilled San Francisco City Hall wedding photographer?
8. What is the guest capacity for a City Hall wedding ceremony?
9. What attire is appropriate for a City Hall wedding?
10. When should you schedule a public or private ceremony at City Hall?
11. How long should you book your photographer, and is a one-hour wedding package sufficient for photography coverage?
A step by step guide
Step 1: Book your marriage ceremony
Book your public or private Ceremony in San Francisco City Hall online by following this link. Make sure you carefully consider your date as City Hall can be very crowded. Office of the County Clerk page.
Step 2: Schedule your Marriage license appointment and Ceremony Appointment. Two SEPARATE appointments. Do not confuse with a marriage certificate.
You must have a valid California marriage license at the time of your Marriage Ceremony. You can make a reservation online on the Office of the County Clerk portal. Link.
Step 3: Rent the 4th-floor gallery or Mayor's balcony (optional)
You can rent a private area at a number of authorized locations inside the San Francisco City Hall. This option is recommended if you have a larger group of guests. For additional information, please visit SF City Hall events page. When renting a space, you will have a much personal experience. You will not wait in line for the ceremony registration, you will be able to bring your own ceremony officiant (instead of City Hall provided deputy marriage commissioner), who will be able to customize your ceremony. You will be able to share your personal vows and so much more. Your guests' list will no longer be limited to 6 guests.
Step 4: Pick a hotel in the nearby area
Book a suite at a nearby hotel to avoid long travel before the ceremony in the wedding dress. Here some of the recommended hotels within a few minutes ride. Here are our recommended hotels.
Step 5: Find a restaurant that caters to weekday wedding parties
Step 6: Book hair and make-up artist, photographer, florist, and other vendors
We recommend reserving all the vendors in advance. Here is our SF City Hall Photography page. We also have a list of recommended hair and make-up artists, officiants, videographers, and florists. As far as City Hall photography coverage goes, we recommend booking a 2-hour package.
Step 7: Site visit (optional)
If possible, we recommend visiting the City Hall in advance to get familiar with the layout as well with outside parking arrangements. This will save time o the wedding day. Or you can get familiar with the building and other aspects by visiting our City Hall guiding page.
| | |
| --- | --- |
| | |


How to plan a San Francisco City Hall wedding
Planning a City Hall wedding is much less complex than planning a more traditional event. The venue itself has a number of ceremony options + rules and regulations. All you need to do is choose a date, time, location and maybe select a pre-made package. The timeline? A simple San Francisco City Hall wedding ceremony is followed by a photoshoot and a wedding reception at a nearby restaurant venue. Sounds easy enough? The trick is to make a schedule that works. Everything should flow. For example, you don't want guests to wait too long between the wedding ceremony and reception. And you need both locations to be in the same area. You should also check parking, transport, and accommodation options for your guests.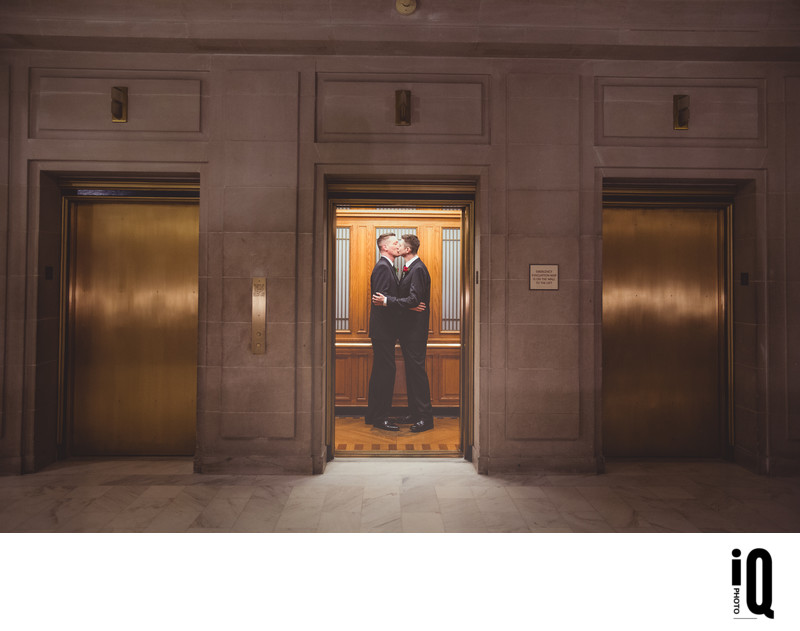 What do you need to get married at the City Hall?
In order to have a civil marriage at City Hall, the bride and groom must be able to speak and understand English. Alternatively, couples might require a ceremony performed in American Sign Language or some other language. If this is the case, you must notify the County Clerk's Office. You can also contact San Francisco City Hall before making an online wedding ceremony appointment.
What documents should you bring?
The bride and groom will be asked to present a valid marriage license. To obtain it, click on this link and make an online reservation. A marriage license is valid for 90 days from the issuance date. Hence you need to get one no earlier than 90 days before the wedding. Secondly, both parties need to have valid government-issued photo identifications in English. And finally, you will need at least one witness not provided by the office.
You will need an appointment for your marriage license at the Rotunda Ceremony
Although getting married in City Hall is a pretty straightforward process, you do need an appointment. No walk-ins are accepted, even for the short 10-minute ceremonies. Actually, you will have to make two different appointments. The first one is for the marriage license and the second one is for the ceremony itself. Our insider tip? Get your marriage license at least one day before the wedding. Many couples choose to schedule both appointments on the same day. However, this can produce stress and spoil the whole wedding experience. You may end up wondering: "what if something goes wrong"! Getting that burden off your chest before the wedding will help you feel more relaxed and enjoy the day.
SF City Hall Locations
Each location at San Francisco City Hall has its perks. And all of them provide outstanding photo opportunities! Some areas of the building can be exclusively yours if you book a private ceremony. But even if you choose a public one, you can still get amazing photos. From the grand entrance and the Rotunda to the impressive 4th floor, there is a lot to discover!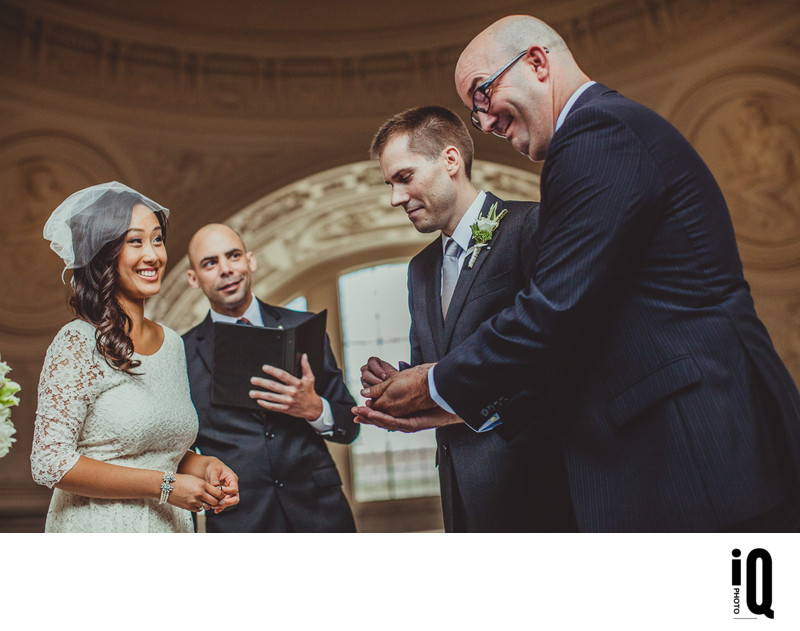 How much does it cost to get married at SF City Hall?
Getting married in City Hall is cost-effective. It is the perfect option for a couple who wants a wedding on a budget. Your first expense is the marriage license which costs $107. The civil ceremony is the cheapest option and it costs $83. A one-hour package costs $1,000 (as of February 2020), while a two-hour package costs $5,000 (limited to weekends).
How to get married in San Francisco City Hall on a very low budget?
The cheapest way is to book a civil ceremony. If you want a truly superb photo album, we recommend booking a private event. This gives you exclusive access to one of the locations for one hour or longer. You can find more information on all of these options at the City Hall Events website. Or contact them directly at 415 554 6086.
How long does it take to get married at SF City Hall?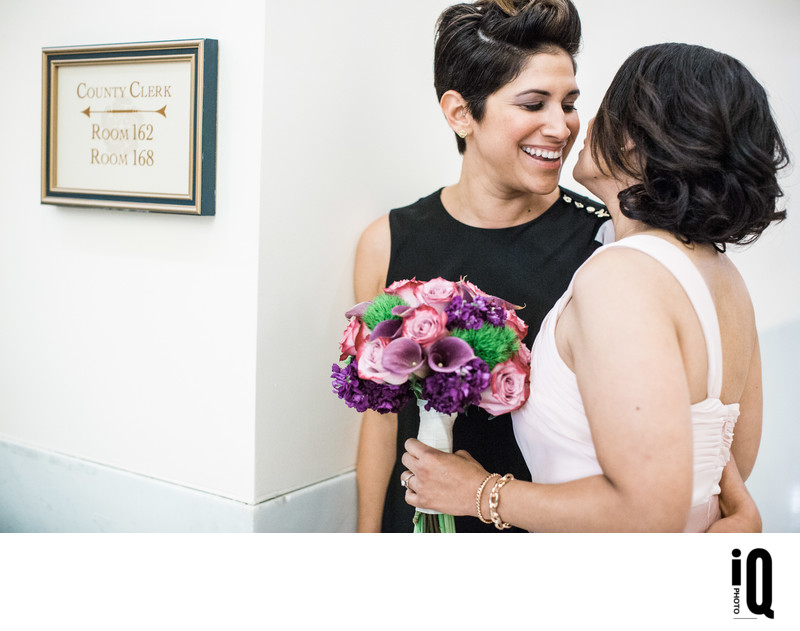 A public City Hall ceremony lasts for about 5 minutes. There are three time slots every 30 minutes and you can book one between 9 am and 3:30 pm. You should arrive and check-in at least 10 minutes prior to your appointment. However, we recommend getting there at least 30 minutes earlier. Before the actual ceremony, you will be invited to the office. You will have a couple of minutes to meet the judge and let your witness sign the license. After the ceremony, you can go and make wedding photos away from the ceremony venue.
You can also book a private one-hour ceremony at the Mayor's Balcony. Alternatively, you can wed at the 4th Floor Galleries. If you book a two-hour ceremony, you will be able to get married at the Grand Staircase. Additionally, there is also a possibility to buy a weekend or evening wedding package. In this case, you can host your ceremony and reception at San Francisco City Hall. Locations include North Light Court, South Light Court, Grand Staircase and the Rotunda.
How many guests can attend an SF City Hall Ceremony?
Keep in mind that to avoid crowds, you are allowed to invite only 6 people. This includes your witness, so why not ask your photographer to sign the license! If you book a one-hour wedding, you can invite up to 100 people. A two-hour package Saturday allows you to invite up to 200 guests. And if you choose a weekend wedding, the number of guests will vary depending on the location you choose. You can also bring your own officiant and have a weekday evening wedding.
WHAT SHOULD I WEAR TO A City Hall WEDDING?
There isn't really a strict clothing etiquette for a City Hall wedding so feel free to wear anything you feel comfortable in. However, some outfit choices are considered to be too casual. Ideally, the dress code should be formal, semi-formal or elegant & chic. When choosing a bridal gown and/or a groom's suit, think about your venue. San Francisco City Hall can be an inspiration itself. Needless to say, your attire can match the opulence of this Beaux-Arts building. A full-length wedding dress is a perfect fit! And the silhouette can be anything from a puffy ball gown to a sexy fit-and-flare style. Alternatively, the bride can also wear a tea-length dress or a cocktail frock. White is the best color to complement the crisp white walls, but you can also add a vibrant detail.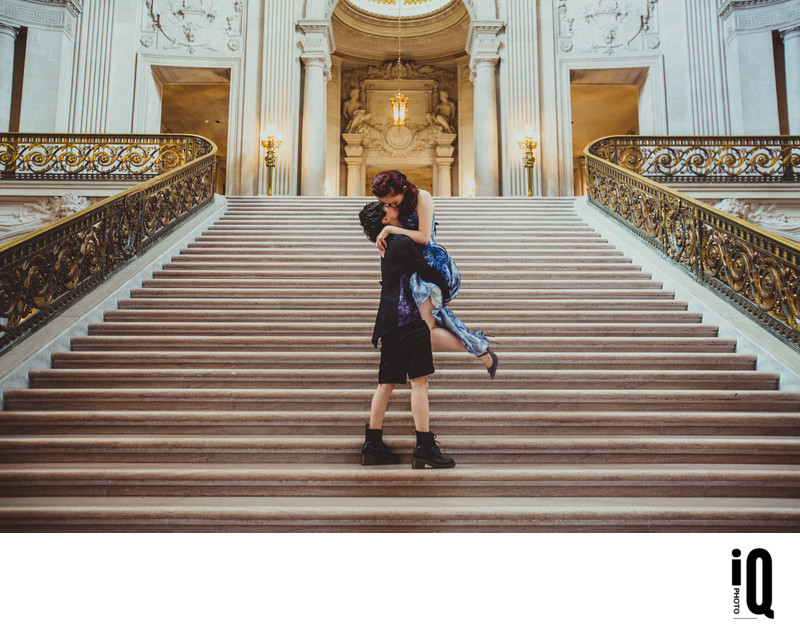 Think about your reception venue too! Pick something appropriate for both spaces. If it is a casual eatery, then a Cinderella outfit isn't what you should look for. Or maybe you will have time to change your outfit? The wedding guest attire should also be in line with the dress code associated with both venues. It should be something elegant, but appropriate for the day (unless it is an evening ceremony). Female guests can wear cocktail-style dresses in various colors. Male guests can choose formal suits in black or other shades. Less dressy options include an elegant skirt + top for ladies. Similarly, a more casual jacket paired with classic pants and a tie will work for men.
When is the best time to get married at City Hall?
When looking for available dates and time slots, keep in mind that City Hall is a public building. If there is a major public event, some parts of the building might be inaccessible while you are there. However, an experienced photographer who knows the venue will be able to find enough great photo locations.

The busiest days are Thursday and Friday. Most couples prefer to have their wedding ceremony on these days and the place is buzzing. Some like it busy, but if you don't, then book your appointment for Monday, Tuesday or Wednesday. Also, remember that the building is open for the public Monday to Friday from 8 am to 8 pm. The busiest hours are between 11 am and 2 pm. Hence, if you want to avoid the crowds, look for available time slots early in the morning. Alternatively, you can book a late afternoon appointment. A 3:30 pm ceremony is a good choice because most of the people will leave by then.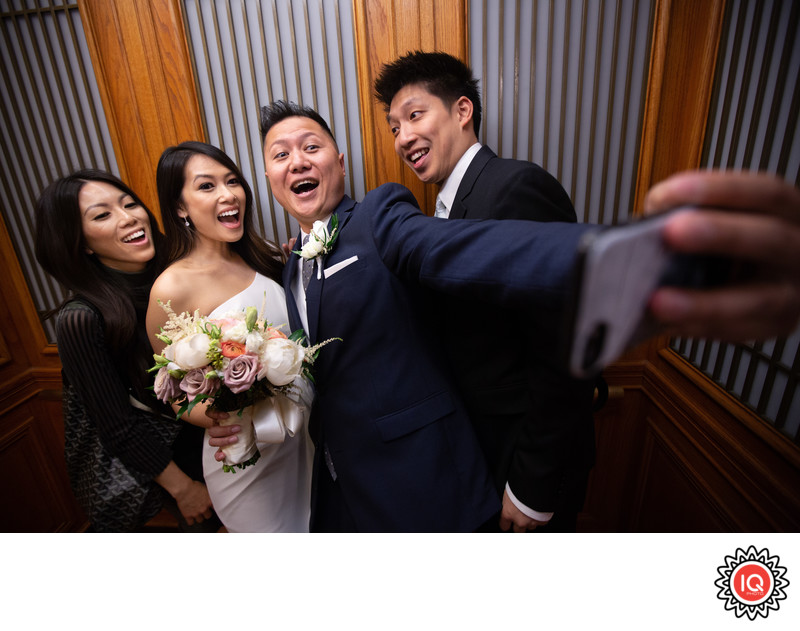 Rules and Regulations
As experienced photographers who have photographed hundreds of weddings at SF City Hall, one of our roles is to offer our couples complete guidance. Here are the most important rules you should follow:
Respect others! If you want some privacy during your ceremony, make sure to give space to others while they are tying the knot. Don't block any doors, hallways and staircases.
Respect the City Hall policies about the number of guests you are allowed to bring. If you want to bring a larger group, it is worth investing in a private ceremony.
Arrive earlier and wait patiently! At about 10 minutes before your ceremony, you should go through a ceremony check-in process at the County Clerk's Office. Wait until you are called and don't try to cut the line!
Bring only a photographer and one witness to the County Clerk's hallway! As this is an administrative procedure, your guests should wait outside.
Be efficient with the photo shoot! Don't spend too much time posing for photographs. A professional photographer will know how to make the best snaps within a short period of time!
You won't be able to use any complicated props and decorations! Forget about things that have to be glued, wired or fixed such as heavy banners and light fixtures. Don't use anything that can damage surfaces.
Don't make a mess! Did you know that some items such as confetti are explicitly forbidden? But even if you want to use rose petals instead, you should make sure to clean everything up afterward.
Finally, get familiar with the City Hall Building Rules and Regulations and make sure you respect them.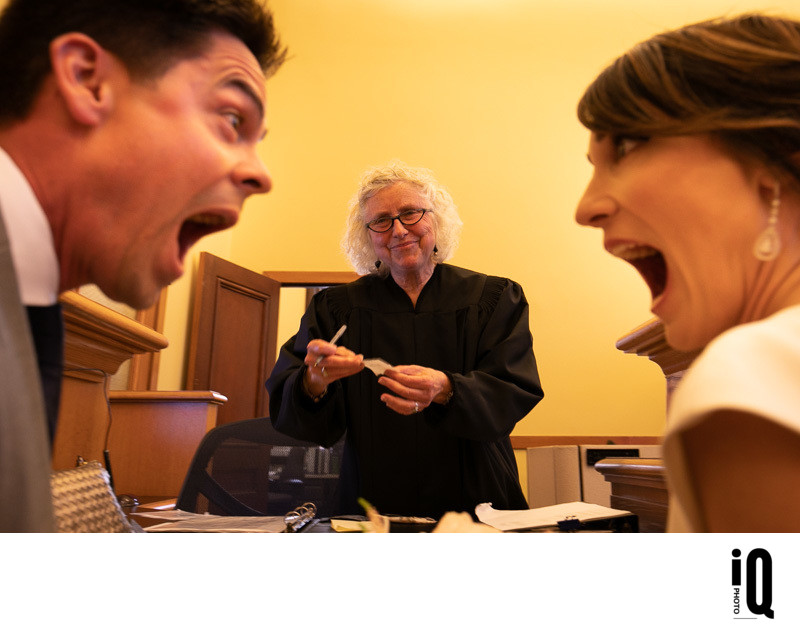 How to get married at City Hall in style
Well, first of all, you can be keep it low profile. But if you can't or don't want to, then, of course, you will need chic attire, a decent wedding photographer and a really good plan for a celebration! Your wedding dress and gourmet food are really worth a splurge. Do make the most of the breathtaking venue and create a memorable experience! Even if it is just a quick civil ceremony followed by a brunch at a nearby restaurant. For the best photo opportunities, schedule an early morning ceremony. You will have plenty of cool photo backdrops while space is still not crowded and light is exceptional. We also recommend booking a restaurant nearby with a great brunch menu. After that, you can relax and then head off for a dinner celebration. The most stylish way to celebrate? Fine dining of course! It can be one of the top-notch restaurants in the area or even a dinner cruise.
How to find a perfect photographer
| | |
| --- | --- |
| | |
| | |
| --- | --- |
| | |
San Francisco City Hall is your ultimate venue if you want top-notch wedding photography that won't break the bank. And value for money is tremendous! Did you know that a professional wedding photographer who normally charges $5,000+ for a weekend wedding photography, might charge you only $1,000 for a City Hall package? This basically means that price difference between a top wedding photographer and an average one which is normally thousands of dollars becomes just a few hundred when it comes to City Hall marriage. And even considering that weekday weddings are shorter, considering the fact that you are able to access a better talent, adds tremendous value to it. Sometimes there is no difference in price at all between average and top photographer. All you need to do is to invest some time into research to find the right one. If you can spare 30-60 seconds for this page to load, and another 5 minutes to look through this image collection you will be able to see what kind of gorgeous venue City Hall is and what is its potential.


Your wedding photos are there to preserve the memory of your big day for generations to come. In fact, this is what makes them even more valuable! This is why it is so important to choose the perfect photographer. Firstly, they should be someone whose style you admire. Secondly, they should have experience in shooting City Hall ceremonies. You'll know you've found "the one" when you fall in love with their wedding photos!
WHAT VENDORS SHOULD YOU HIRE
We recommend hiring at least a professional make-up artist, a florist, and a photographer. You may also consider videography, musician (if you rent space), and a limo.
How To... (Official Guide)