San Francisco City Hall's stunning interiors are beautifully lit in the evening. The building becomes peaceful and quiet, while ornate lamps and chandeliers are filling space with warmth. And since the building is open to the public until 8 pm, this is when you can grab the best photo opportunities.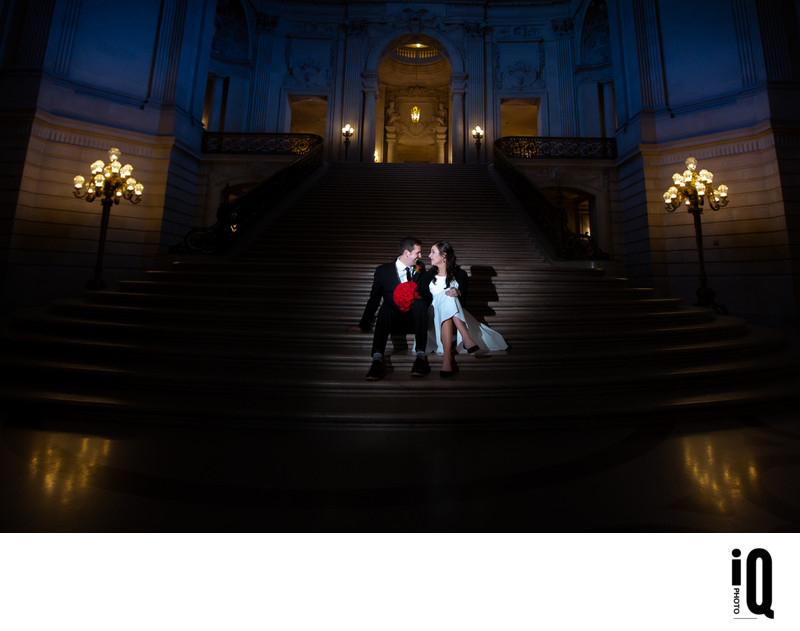 SAN FRANCISCO CITY HALL AT NIGHT
While natural light is very inspirational, there is something special about the nighttime shots at San Francisco City Hall. It certainly has the most beautifully illuminated exterior. Each night, 220 state-of-the-art LED lighting fixtures light up to illuminate building's majestic facade and dome. A creative wedding photographer can definitely make the most of colorful lights! Just imagine how fascinating the images can be if you use this backdrop for your outdoor shots… However, many couples don't know that this iconic courthouse also looks astonishing inside when the sun goes down. Light fixtures inside are carefully and strategically dispersed across the building to emphasize its most intriguing ornaments and architectural features. From the ground floor and the famous Rotunda to the Mayor's Balcony and top floor galleries, each level looks amazing.
THE BEST LIGHTING SOLUTIONS
An experienced wedding photographer can make your nighttime photos San Francisco City Hall outstanding. They will make use of the soft background lights scattered all over building's intricate white-washed walls. Trust us, this space feels very warm and intimate in the evening without any additional source of light. Each part of the building looks equally tempting with its flawless light fixtures. The grand staircase looks exceptionally beautiful surrounded by multiple sources of ambiance lighting!
Your wedding photographer can make utterly romantic shots using only the soft background lighting of the building. However, professional lighting can further enhance your wedding photography. It is easy to create a dramatic effect reminiscing Cirque du Soleil's iconic performances. Depending on the area and feature you want to accentuate, you can play with light to create different effects.