Love by the Bay: Marriage Proposals at Pier 7
An Iconic and Romantic San Francisco Setting for Unforgettable Moments
As a San Francisco-based photographer with a passion for capturing marriage proposals, I have had the privilege of witnessing countless heartwarming moments in some of the city's most awe-inspiring and unique locations. Among these, Pier 7 stands out as an iconic and romantic spot for couples seeking a memorable and picturesque backdrop for their life-changing moment.
Located along the city's bustling Embarcadero, Pier 7 is a classic wooden pier featuring an elegant, pedestrian walkway adorned with ornate lampposts. The pier offers stunning panoramic views of the San Francisco Bay, the city skyline, and the historic Ferry Building, creating a magical atmosphere that is perfect for celebrating love and commitment.
A Timeless Romance by the Bay
Pier 7 has long been a favorite spot for locals and visitors alike, offering a peaceful refuge amidst the vibrant energy of the city. Its Victorian-inspired design and unique vantage point make it an ideal location for unforgettable marriage proposals, as couples can immerse themselves in the romance and history of San Francisco while surrounded by the beauty of the bay.
As the sun sets and the city lights begin to sparkle, Pier 7 takes on an enchanting ambiance that invites couples to share their love story in the most romantic of settings.
Capturing Love in the Heart of San Francisco
As a photographer, I am continually inspired by the charm and scenic beauty of Pier 7. Its panoramic views of the bay and the city skyline provide a breathtaking backdrop for proposal photos, showcasing the timeless and captivating nature of each couple's love story.
My goal is to capture the genuine emotion and splendor of each unique proposal, preserving the essence of the couple's love and the enchanting atmosphere of their chosen location. Pier 7 allows me to do just that, producing stunning, heartfelt images that will be cherished for years to come.
Creating Unforgettable Memories on Pier 7
Each proposal at Pier 7 tells a unique and moving story, showcasing the love and commitment that brings two people together. The pier's iconic setting and picturesque views make it an ideal location for couples to begin their journey together, creating lasting memories that will be treasured forever.
For those seeking a quintessential San Francisco experience, Pier 7 offers the perfect blend of romance, charm, and natural beauty. It is a truly unforgettable location for couples embarking on their journey together, providing an idyllic stage for the most cherished moments of their lives.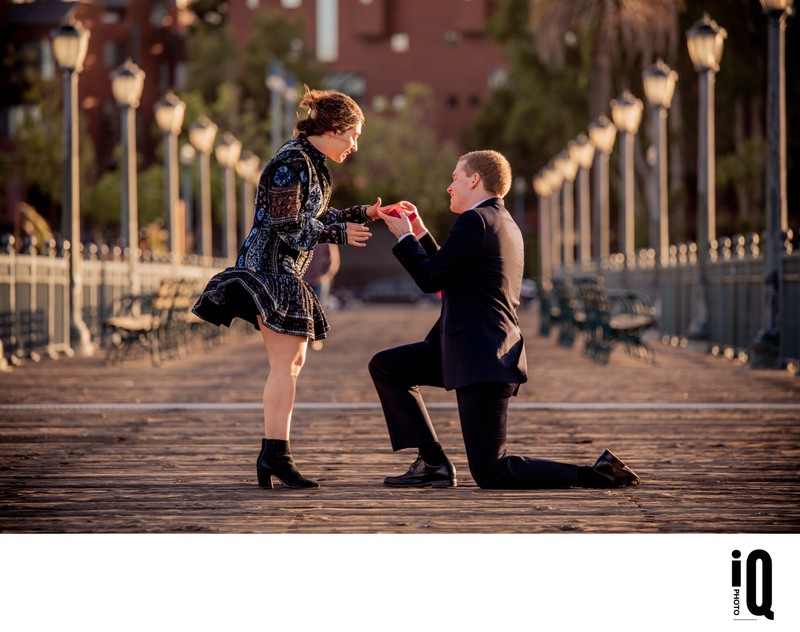 A Glimpse into Pier 7's Origins
Pier 7's history is deeply rooted in the growth and development of San Francisco as a bustling port city. In the late 1800s and early 1900s, San Francisco's waterfront was teeming with piers, warehouses, and maritime activity, as ships from around the world would arrive to unload their cargo and take on new supplies.
As the city continued to grow, so did the need for additional waterfront infrastructure. Plans for the development of a new pier at the site that would become Pier 7 were set in motion, and the pier was eventually built in the early 20th century.
A New Chapter: Pier 7's Modern Revival
Pier 7's fortunes, however, were not immune to the passage of time. As maritime trade shifted to other parts of the Bay Area, many piers in San Francisco were left to deteriorate. The decline of the city's waterfront district led to a push for revitalization, and in the late 1980s, the Port of San Francisco launched a comprehensive redevelopment project to restore and revitalize the Embarcadero.
The project's crowning achievement was the reconstruction of Pier 7 in the early 1990s. Designed to be a public promenade, the new pier featured a charming, pedestrian-friendly walkway adorned with ornate lampposts, benches, and Victorian-inspired architecture. This revitalized pier quickly became a favorite destination for locals and tourists alike, offering stunning views of the San Francisco Bay and the city skyline.
Pier 7 Today: A Testament to San Francisco's Resilient Spirit
Today, Pier 7 stands as a testament to the city's resilient spirit and commitment to preserving its rich maritime heritage. The pier's transformation from a functional maritime facility to a romantic, picturesque landmark represents the remarkable story of San Francisco's waterfront.
The fascinating history of Pier 7 adds an extra layer of depth and significance to its status as a beloved destination for marriage proposals and special moments. The pier's legacy of love and resilience is a poignant reminder of the enduring power of human connection and our ability to create something truly beautiful, even in the face of adversity.