THE SAN FRANCISCO CITY HALL ROTUNDA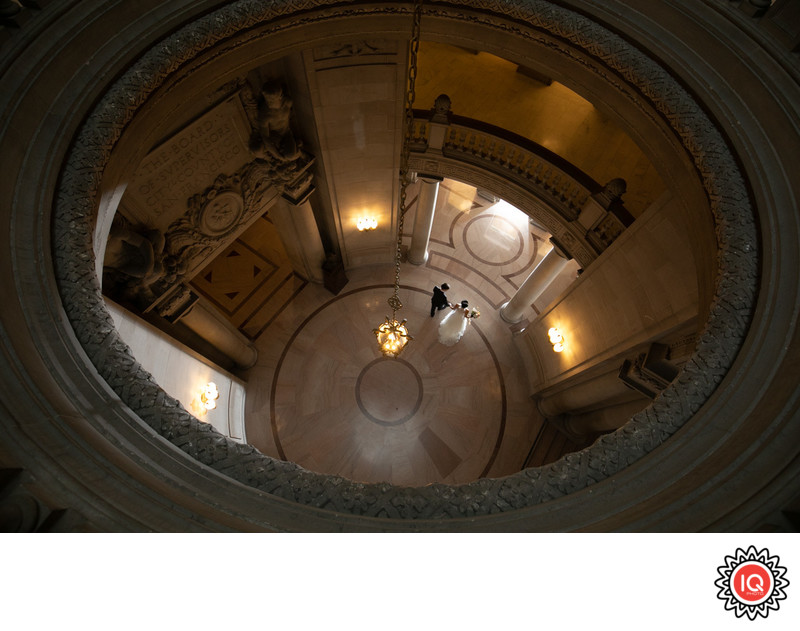 The Rotunda. View from the 4th floor.
The Rotunda is the very heart of San Francisco City Hall located just above the main staircase. It is where the majority of public wedding ceremonies take place. Photo opportunities here are amazing! Rotunda's coolest perks? It is filled with a soft light plus there are beautiful crystal chandelier. It is standing right opposite from the Mayor's Balcony which means that great photo backdrops are guaranteed. Of course, this public space can get pretty crowded, especially between 11 am and 3 pm on weekdays. However, you can grab fantastic photo opportunities early in the morning (around 9 am) or late in the afternoon (after 3 pm). You will need to get a good SF City Hall wedding photographer for that.
PRIVATE AND PUBLIC CEREMONIES
The Rotunda is a popular location for public ceremonies. Most weekday weddings happen here! Friday is a particularly busy day as there are many couples getting married and visitors wandering around. If you want a simple civil ceremony, you'll get more privacy if you book a morning or afternoon wedding Monday to Wednesday. And if you want a private event, the Rotunda may not be the best choice for the ceremony. Instead, consider the 4th floor gallery or the Mayor's Balcony. You can also book the entire City Hall including Rotunda on a weekend. Beautifully illuminated and awash with sparkly white marble, City Hall is simply ideal for glamorous celebrations. It looks equally stunning in daylight and at night. No wonder many celebrities including Marilyn Monroe have chosen to tie the knot here!
For more information about San Francisco City Hall Rotunda and the floor plan, visit the Event's Department page.
---
See also: How to get married at SF City Hall, The Rotunda, Mayors Balcony, 4th floor, 3rd floor, Front Door, County Clerk, Grand Staircase, Things to do after, Where to stay before the wedding, Candid photos, Natural Light, City Hall natural light, More City Hall guides.