SAN FRANCISCO CITY HALL CAN BE VERY CROWDED. WHAT TO DO?
Good news is: you can still get awesome wedding photos even when City Hall is crowded with visitors and other couples posing for pictures. Your photographer needs to know the locations, be flexible, creative & spontaneous and have a great sense of awareness and communication skills. If you have this kind of San Francisco City Hall wedding photographer, you are set. However, if you are able to avoid the crowds altogether, you will very likely get an even better set of wedding photos.
In this article, I am assuming you are getting married on a busy day. But if you still have time to plan it, I recommend visiting our San Francisco City Hall wedding Guide first.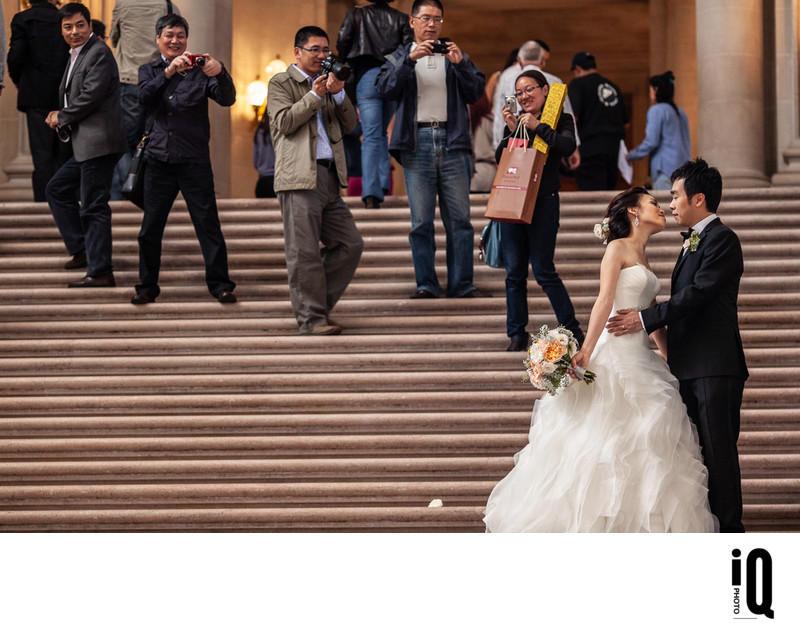 GETTING AROUND SAN FRANCISCO CITY HALL
San Francisco City Hall is a gorgeous, spacious building with a myriad of fantastic photo backdrops across four floors. From the majestic entrance, the grand staircase and the Rotunda to the beautiful 4th-Floor Galleries, there are just so many options available! The problem is: most couples have a very specific schedule for their marriage license and the wedding ceremony appointment and can't simply go wherever they wish. This being said, a good photographer can sense when is the right time to quickly visit a certain location without disrupting a schedule. If County Clerk office runs 15 minutes behind the schedule, a photographer can quickly get to the Grand Stairs and possibly get a number of good images while other couples are waiting in line. In fact, a good photographer may take a great looking Grand Staircase photos even if another couple is being photographed right in the middle and tourists walking up and down. Yes, it is tricky but possible!
If one location is too crowded, you can quickly move to another one and make breathtaking pictures there.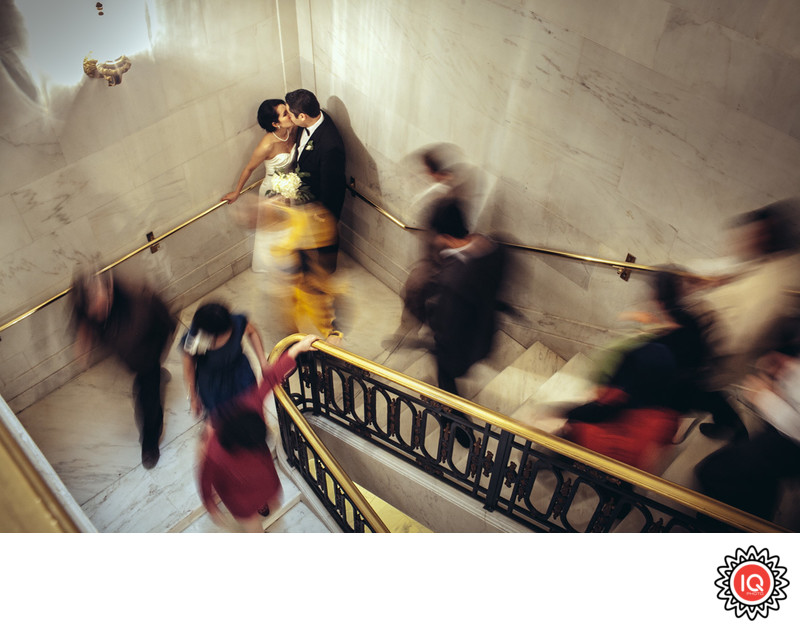 See also: How to get married at SF City Hall, The Rotunda, Mayors Balcony, 4th floor, 3rd floor, Front Door, County Clerk, Grand Staircase, Things to do after, Where to stay before the wedding, Candid photos, City Hall natural light, More City Hall guides.
An experienced wedding photographer will be able to guide you through the building. They will find the best places, think of the best angles and make the most of the time you have. Instead of preparing a list of must-have photos beforehand, be a little more spontaneous. Feel free to make decisions along the way. Look around you to see which areas are available. If you see a nice backdrop where you can make a great snap without other people behind you, it is an opportunity you shouldn't miss. And be ready to move from one floor to another. If the grand staircase is jam-packed with people, try the 3rd-floor.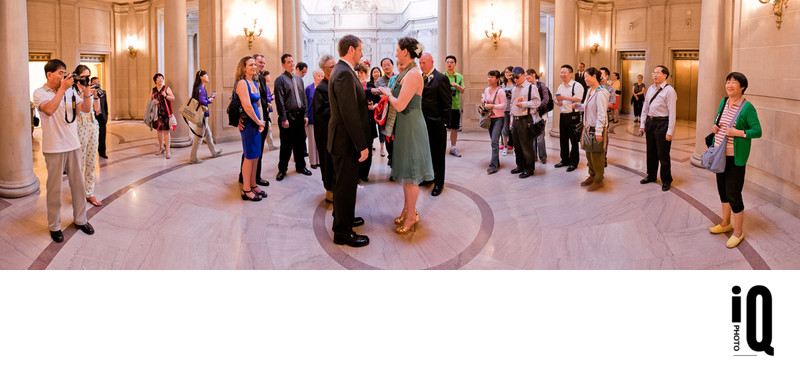 When photographing a San Francisco City Hall wedding, time management is crucial. Remember that you have a strict timeline to follow. Whether you've booked a civil ceremony or a private event, you will have a limited amount of time to take photos. You don't want to spend too much time at the building and you want to make it to your reception venue on time. This is why you should never wait for a particular location to become available. Don't waste your time waiting for another couple to finish their photo shoot. Instead, you can quickly go and find another fabulous spot with your photographer. If you don't see the available area around you, try other floors. Just go with the flow. Your experienced City Hall wedding photographer will be able to take a few stunning shots even when there are many people around. Plus they can always find a secluded area for those editorial-style photos.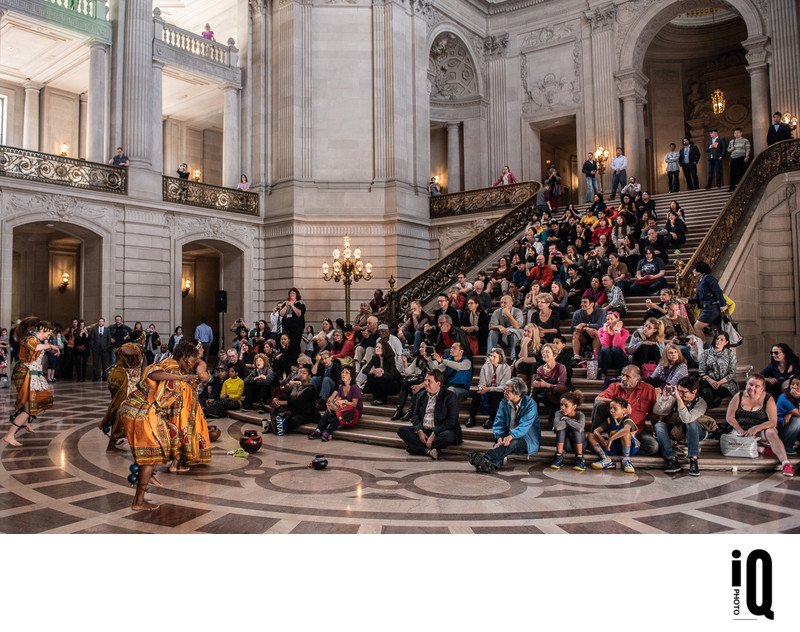 Often San Francisco City Hall hosts special, VIP events or Galas. This means that the entire building needs to be prepared. The setup process involves large props, lots of equipment, lighting, and tables set up, stages, decorations and more. Unfortunately, some areas and particularly the Grand Staircase often get inaccessible for photo sessions. And while the unavailable location is not a major obstacle by itself, it creates a chain reaction where all the couples are forced to visit limited available locations all at once. If photography is on your priority list, we recommend calling the events department and asking if a special event has been scheduled on your desired wedding day.