San Francisco City Hall Mayor's Balcony
Located directly underneath the big clock, the Mayor's Balcony has incredible views of the building and makes a superb location for wedding photos. This is where you can host a private City Hall wedding ceremony!
WHO SHOULD RENT THE MAYOR'S BALCONY?
Couples who are interested in a private setting for themselves and/or for their group of friends should definitely consider renting the Mayor's Balcony. 2020 is shaping up to be the busiest year ever in San Francisco's City Hall history. A record number of couples who seek to get married at this historic building as well as flocks tourists visit San Francisco City Hall on a daily basis. For those who prefer to avoid the hassle of getting married using the County Clerk's office, renting a space is a perfect solution.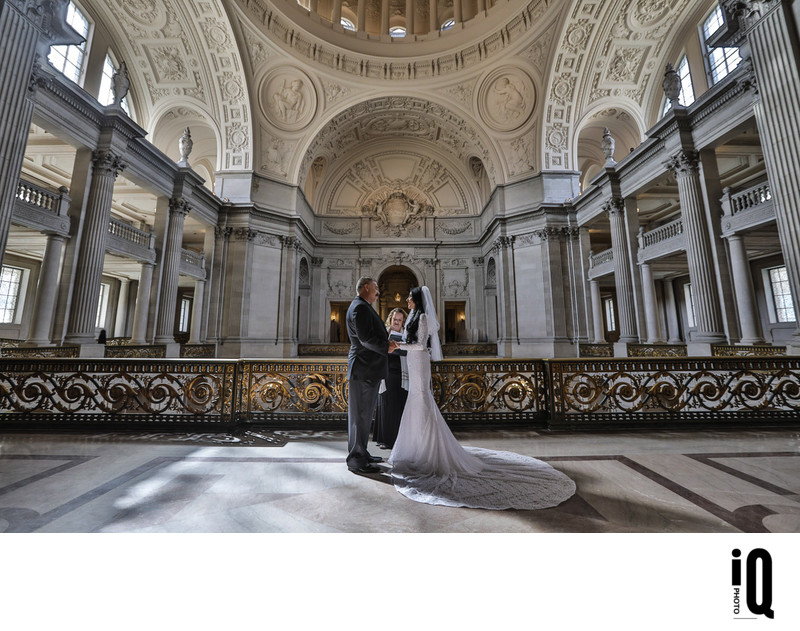 CEREMONIES AT MAYOR'S BALCONY
The Mayor's Balcony is our 2nd perfect spot after the 4th floor. It seats up to 40 guests and can accommodate up to 40 people standing. This exceptionally beautiful balcony is a Beaux-Arts masterpiece, superbly located on the second floor of the building. Overlooking the Grand Staircase and the Rotunda, it gives you wonderful views of City Hall and has plenty of natural light. Although the building is open to the public, you will have privacy here. With chic wooden chairs, colorful floral arrangements and celebratory champagne, your ceremony is bound to be a memorable event!
UNIQUE WEDDING PHOTOS
Mayor's Balcony is a fantastic vantage point from where you can capture the most beautiful wedding photos of San Francisco City Hall. That's exactly why wedding photographers love it so much! You will get gorgeous views of the ornate marble walls, the grand staircase and the Rotunda. Without a doubt, it offers the most elegant backdrops for the bride and groom shots. Its unique feature is the iconic golden railing which can really stand out on your wedding photos. It has a regal feel and provides a more elaborate wedding color palette than other City Hall locations. The natural light drops from the big windows on the 4th floor and disperses from smaller windows on each side of the balcony. Photographers often use their own lighting to enhance the wedding photos.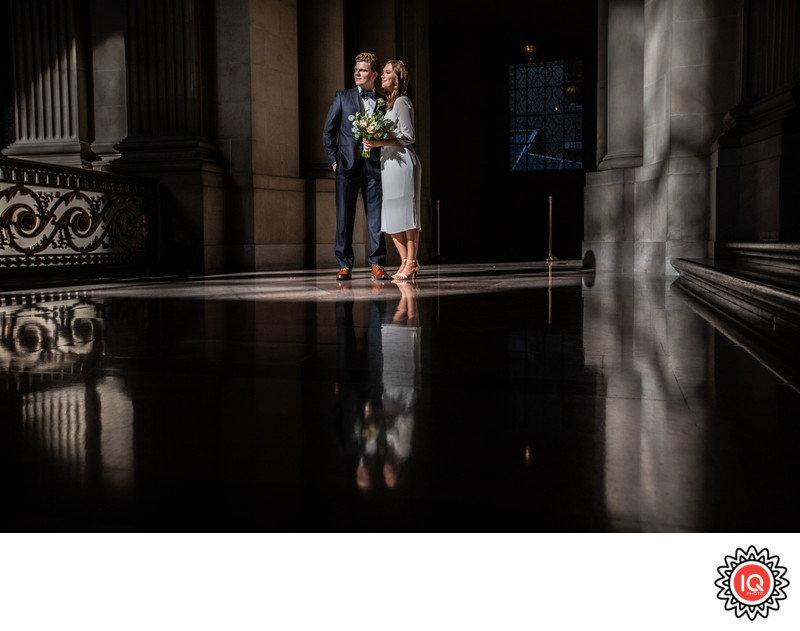 See also: The Rotunda, Mayors Balcony, 4th floor, 3rd floor, Front Door, County Clerk, Grand Staircase, Things to do after, Where to stay before the wedding, What to do if City Hall is packed, Candid photos, City Hall natural light, More City Hall guides.
WHEN IS THE BEST TIME TO RENT A MAYOR'S BALCONY?
When renting a space, timing is of a lesser significance compared to when using a County Clerk office, since couples have their own private area. However, the best time to tie the knot is early in the morning or late afternoon when there are fewer visitors running up and down the staircase. An empty Grand Staircase is a very unique and gorgeous background only Mayor's Balcony can offer.
For more information about renting the Mayor's Balcony and for the floor plan, please visit City Hall Events official page.