PERFECT PLACE TO ESCAPE THE CROWDS
The most peaceful floor in the building is the perfect place to escape and make top-notch wedding photos. A snap by the famous big window is a must-have. The 3rd-Floor at San Francisco City Hall boasts some of the best photoshoot locations in this iconic building. It is such a quiet space, far from the busy Rotunda and the popular Mayor's Balcony.

And yet still, it is such a great photo shoot location. After your civil ceremony, you will need to find a secluded area to make more intimate and artistic photos. There is a great chance you will find exactly what you are looking for if you go up to the third level. As soon as you get there, you'll immediately spot gorgeous backdrops that seem to be waiting especially for you.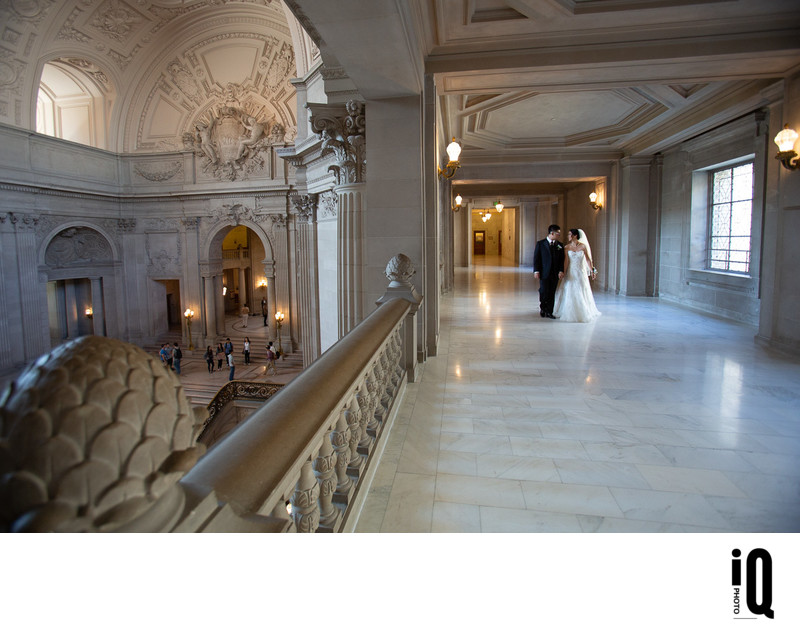 See also: The Rotunda, Mayors Balcony, 4th floor, Front Door, County Clerk, Grand Staircase, Things to do after, Where to stay before the wedding, What to do if City Hall is packed, Candid photos, City Hall natural light, More City Hall guides.
THE BEST PHOTO BACKDROPS
There are a few unbeatable wedding photo backdrops on the San Francisco City Hall 3rd-Floor. Here, you'll find a spacious desolated hallway – perfect for romantic photos. Its key features? Luxurious marble floors, ornate lamps, intricate golden railings and splashes of natural light. You can make some really fascinating images right here!
But there is also a very special place wedding photographers adore. If you have been browsing through City Hall wedding photos online, you've probably seen fantastic images made in front of a gigantic window. It is actually an iconic Art Deco window and it is located on the 3rd floor. Unique geometric pattern inspired by the Jazz era is absolutely stunning! Offering a sharp contrast of light and shadow, it is a location where you can make romantic and playful shots. Go up to the window sill and your photographer can capture your full figures in front of the ornate glass. Black and white photos are ideal if you want to create a sharp contrast!