Palace of Fine Arts Proposals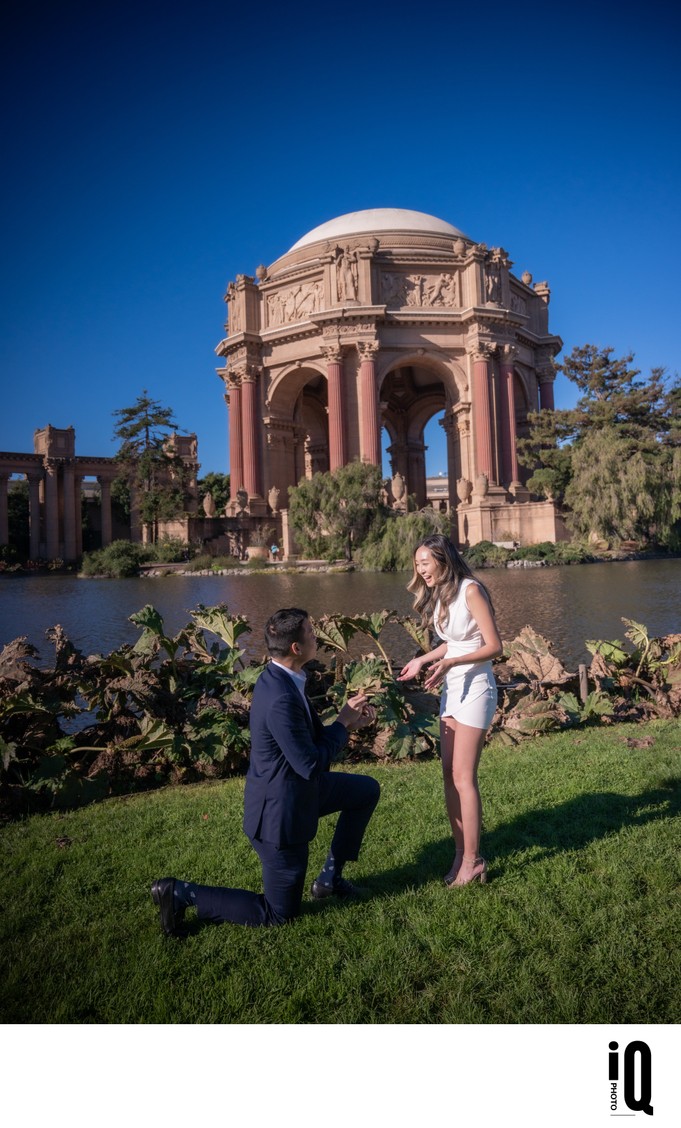 An Architectural Masterpiece for Love: Marriage Proposals at the Palace of Fine Arts
As a professional photographer, I have been fortunate enough to capture the magic of love in many breathtaking locations. Among these, the Palace of Fine Arts in San Francisco is undoubtedly one of the most enchanting settings for marriage proposals. This architectural gem, with its classical beauty and serene atmosphere, creates the perfect stage for romance. In this article, I will share my perspective on why the Palace of Fine Arts is a splendid location for proposals and how its proximity to Crissy Field adds to its appeal.
A Symbol of Love and Artistry
The Palace of Fine Arts, originally constructed for the 1915 Panama-Pacific Exposition, is a stunning ode to classical architecture. The ornate rotunda, stately colonnades, and graceful swans gliding across the tranquil lagoon evoke a sense of history and grandeur. As a photographer, I am continually inspired by the exquisite details of the Palace and the way it provides an awe-inspiring backdrop for capturing the tender moments between couples during their proposals.
The Perfect Ambiance for Romance
One of the many reasons the Palace of Fine Arts is such an ideal location for proposals is the ambiance it creates. The beautifully landscaped grounds and serene lagoon offer a sense of privacy and intimacy, allowing couples to focus on the magic of their special moment. The enchanting setting, combined with the soft, warm light that filters through the trees, creates a dreamlike atmosphere that enhances the emotions of the occasion.
Proximity to Crissy Field
The Palace of Fine Arts' close proximity to Crissy Field offers a unique advantage for proposal photography. After capturing the magical moment of the proposal itself, couples can continue their photo session with stunning views of the Golden Gate Bridge, Alcatraz Island, and the San Francisco Bay as a backdrop. The combination of the Palace's architectural splendor and Crissy Field's iconic scenery allows for a diverse and visually stunning collection of images that will be cherished for years to come.
In Conclusion
The Palace of Fine Arts is truly a remarkable location for marriage proposals, offering a blend of architectural beauty, serene atmosphere, and close proximity to the picturesque Crissy Field. As a photographer, I am honored to be a part of these unforgettable moments, capturing the love and emotion that blossom in this extraordinary setting.