Our weekday (Mon-Thu) proposal package, priced at $495, captures the special moment and typically results in 20-50 images. Images are uploaded to a password-protected gallery, allowing you to share and download high-resolution photos with friends and family. This package is exclusive to outdoor, natural light proposals in San Francisco.
---
DELUXE PROPOSAL | $695 ($795)
Similar to the basic proposal package, we'll capture the actual proposal (20-50 images) and additionally spend time with you to create a collection of posed and candid professional engagement session photos. Like the previous package, you can download the actual proposal and five extra posed images. There is an additional $100 fee for sessions on Fridays, weekends, or holidays. This offer is limited to natural light proposals.
---
PREMIUM PROPOSAL | $995 ($1,095)
The Premium Package, covers the photography of the actual proposal and additional time to capture the excitement and take an extended set of portraits. Clients can download all proposal images and 25 extra posed & candid photos taken after the proposal. The entire experience lasts approximately one hour. Please note that there is an additional $100 fee for sessions on Fridays, weekends, or holidays.
---
UNLIMITED PROPOSAL | $1695 ($1795)
This package offers two hours of the photographer's time, and all photos taken within this period will be yours to download. Travel fees are waived within a 50-mile radius from San Francisco. Any unused time can be transferred to a future photo session. Please note that an additional $100 fee applies for weekend bookings.
---
A-La-Carte items
PROPOSAL PLANNING - SEE PLANNING PAGE HERE.
DRONE VIDEO REEL ADD-ON - $450 ($550) - see sample.
VIDEOGRAPHY - ($1,500+) we will create a short feature proposal film set to a song of your choice - similar to a wedding highlight movie. See sample.
LIVESTREAM (extra person & phone via zoom) - $200 ($300). Or professional DSLR + Pro Sound + All broadcasting gear - from $995.
PROPOSAL PRO LIGHTING - If needed, we can bring a lighting setup to create dramatic "epic" look - $200. Included in indoor Premium packages.
TRAVEL FEES: None added for San Francisco. Please ask about other locations. Fee depends on the chosen package.
REQUEST AVAILABILITY
San Francisco: The Perfect Backdrop for Your Romantic Proposal
As a photographer who has spent years capturing life's most cherished moments, I can confidently say that San Francisco is one of the most stunning cities to propose in. With its picturesque landscapes, iconic landmarks, and diverse settings, the City by the Bay provides the perfect backdrop for your unforgettable proposal.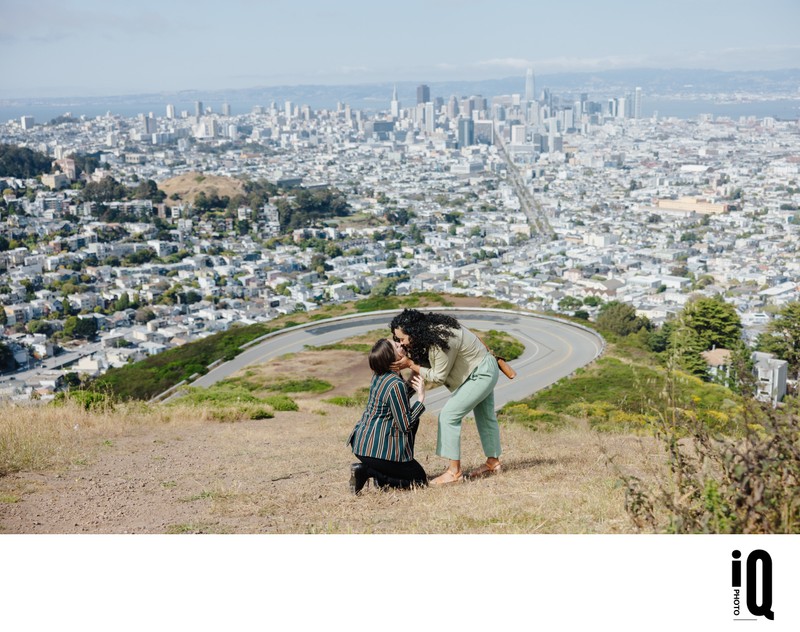 San Francisco is home to an array of breathtaking sceneries, from the sweeping vistas of the Golden Gate Bridge to the dramatic sunsets at Sutro Baths. These locations offer a captivating ambiance for your proposal, ensuring that your special moment is not only memorable but visually stunning as well.
The Golden Gate Bridge is undoubtedly one of the most iconic landmarks in San Francisco. Proposing with this architectural marvel in the background adds a touch of grandeur to your romantic moment. Other noteworthy landmarks include Coit Tower, the Palace of Fine Arts, and the Painted Ladies, all of which make for fantastic proposal settings.
San Francisco boasts numerous picturesque beaches that serve as idyllic locations for a seaside proposal. Baker Beach, for instance, offers a captivating view of the Golden Gate Bridge and a serene atmosphere perfect for a romantic moment. Other beaches, such as China Beach and Marshall's Beach, provide equally stunning backdrops for your big question.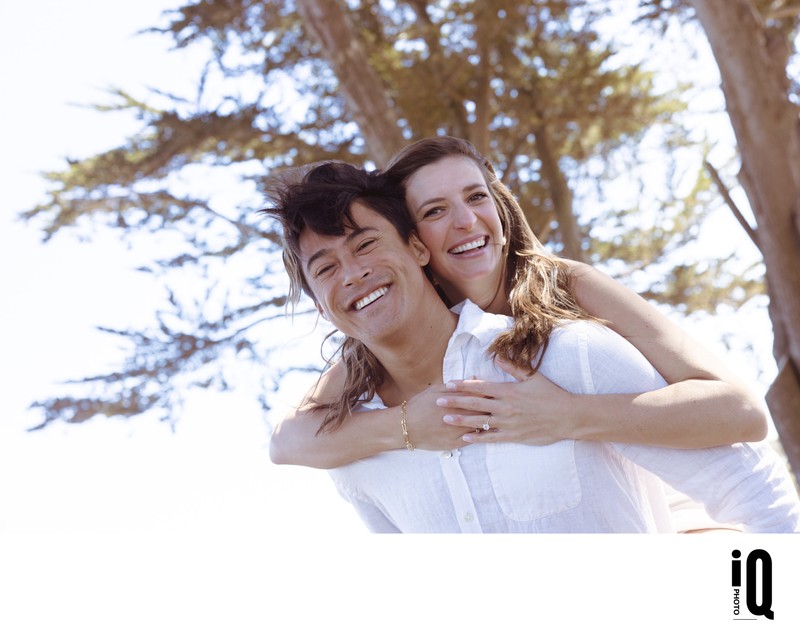 The city's numerous parks and gardens offer a verdant setting for your proposal. Golden Gate Park, one of the largest urban parks in the country, features picturesque spots such as the Japanese Tea Garden and Stow Lake. Alternatively, you can opt for the charming ambiance of the Shakespeare Garden or the enchanting views from the top of Bernal Heights Park.
San Francisco is a hilly city, which means it's home to numerous viewpoints that showcase its beauty. Twin Peaks, for example, provides a panoramic view of the city skyline, while Hawk Hill in the Marin Headlands offers a breathtaking vista of the Golden Gate Bridge. These locations serve as a dramatic backdrop for your proposal, making the moment all the more magical.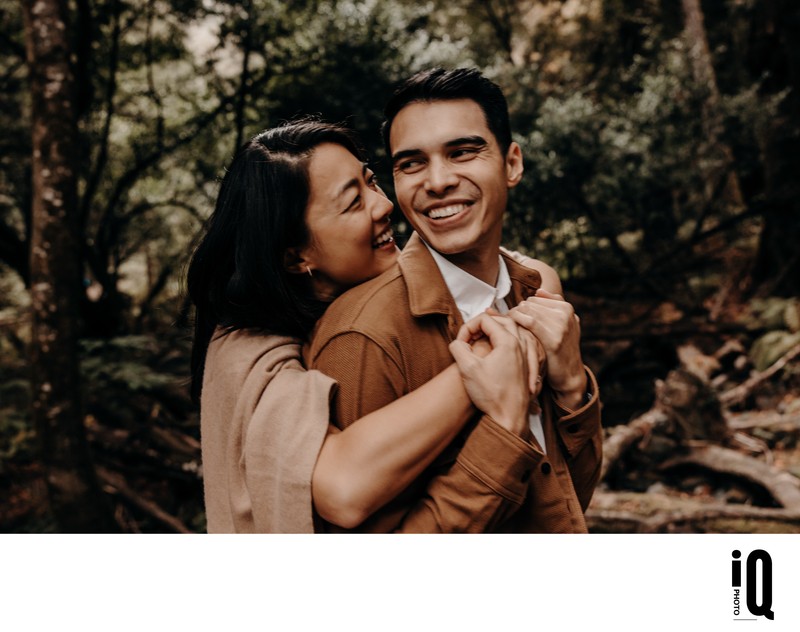 For those looking for a more unconventional proposal location, San Francisco has no shortage of unique and quirky spots. The colorful mosaic staircase at 16th Avenue Tiled Steps, for instance, adds a whimsical touch to your special moment, while the Labyrinth at Land's End provides a serene and meditative atmosphere.
In conclusion, San Francisco's diverse and picturesque landscapes make it an exceptional city to propose in. Whether you're looking for a beachfront setting, an iconic landmark, or a lush park, the City by the Bay offers a multitude of options that cater to every couple's taste. As a photographer who has witnessed countless proposals in this magnificent city, I can attest that San Francisco truly captures the essence of love and creates an unforgettable experience for those who choose to start their journey here.
REQUEST AVAILABILITY