San Francisco City Hall Wedding Photographer
San Francisco City Hall is an architectural gem that serves as an enchanting backdrop for one of the most significant moments of your life - your wedding day. If you are looking for a wedding photographer for your City Hall wedding, we have a number of packages starting at $995.
Getting married at San Francisco City Hall is not only a visual treat but also a genuinely fun and memorable experience. The building's versatile spaces, such as the Rotunda, Mayor's Balcony, and the 4th Floor Galleries, offer incredible photo opportunities and create unforgettable memories.
Besides providing wedding photography, we are also more than happy to guide you through the check-in process, help you choose the most stunning shooting locations, and even stand as your witness if needed. All you have to do is bring your beautiful smile, unwind, and relish every moment of your special day.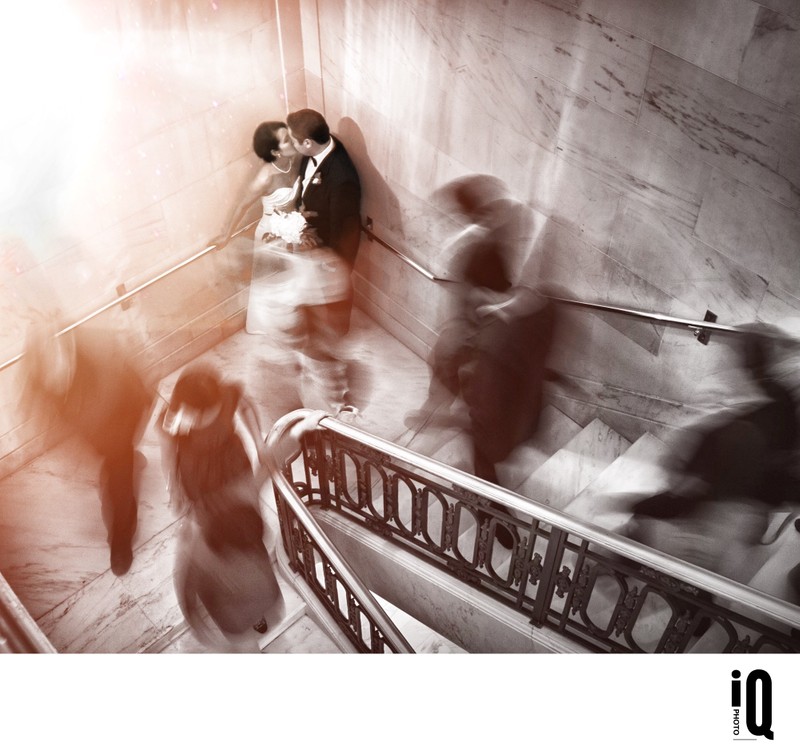 Our packages start at $995 for capturing your Ceremony and taking a few classic and posed portraits afterward. For a more extensive look at our City Hall Wedding Photography Portfolio, please click here.
While we have had the pleasure of photographing weddings across the nation and journeyed to four continents, our home in San Francisco offers us the unique opportunity to be a part of the intimate weddings we hold so dear. Furthermore, our personal connection to City Hall weddings, having had two family weddings there ourselves, adds a special touch to our work.
Packages
Package 1 - $995 - The Essence of Love package is tailored for couples who desire a more minimalistic wedding experience. This package encompasses coverage of your wedding ceremony, during which we will focus on capturing the beautiful moments shared between the couple and the wedding attendees. The package includes all high-resolution files taken during the actual civil San Francisco courthouse wedding ceremony, as well as five high-resolution formal or posed files, all available for download. Please note that this package does not cover the signing of the marriage license.
---
Package 2 - $1,295 - The Timeless Romance package goes beyond capturing the wedding ceremony at the Rotunda. It includes candid photos taken before and after the ceremony, as well as inside the County Clerk's hallway. Following the public or private ceremony appointment, we will dedicate time to capturing more photographs (based on your preferences) throughout the exquisite City Hall, making the most of its stunning backdrops. All files will be conveniently available for download. This package covers one hour of photography coverage.
---
Package 3 - $1,795 - The Love & Elegance package is an extended version of the Timeless Romance package. The additional time allows for a comprehensive exploration of all four levels of San Francisco City Hall, capturing its distinctive architecture and creating an even more stunning collection of memories. This package is ideal for those who cherish the extraordinary City Hall atmosphere and wish to have more photos taken within its beautiful halls, or for couples who prefer to include another location within this extended time frame. All digital files and photos will be available for download. This package offers two hours of photography coverage.
---
Package 4 - $2,895 - The Eternal Love Story package is designed for couples seeking a comprehensive photography experience that includes bridal preparations, the first look, wedding ceremony, an additional location (e.g., beach, park), and the reception. Offering more flexibility than our previous packages, this option ensures that every treasured moment is captured. All files will be available for download, and the package includes four hours of photography. The time can also be split ($150) to accommodate an evening dinner or reception, such as having the ceremony in the morning and the reception later in the day.
---
Package 5 (photo & video) - $3,990 - Enjoy 2 hours of combined photo and video coverage, with all photos and a highlight video (3-4 minutes, featuring a song of your choice) included in the package. If desired, extra time can be added at a rate of $600 per hour for each service ($1200 per hour for both photo and video).
---
Package 6 (photo & video) - $5,590 - Experience 4 hours of comprehensive photo and video coverage, complete with all photos and a highlight video (3-5 minutes, set to a song of your choice). Should you require more time, it can be added at a rate of $500 per hour for each service ($1000 per hour for both photo and video).
How to obtain a marriage license FAQ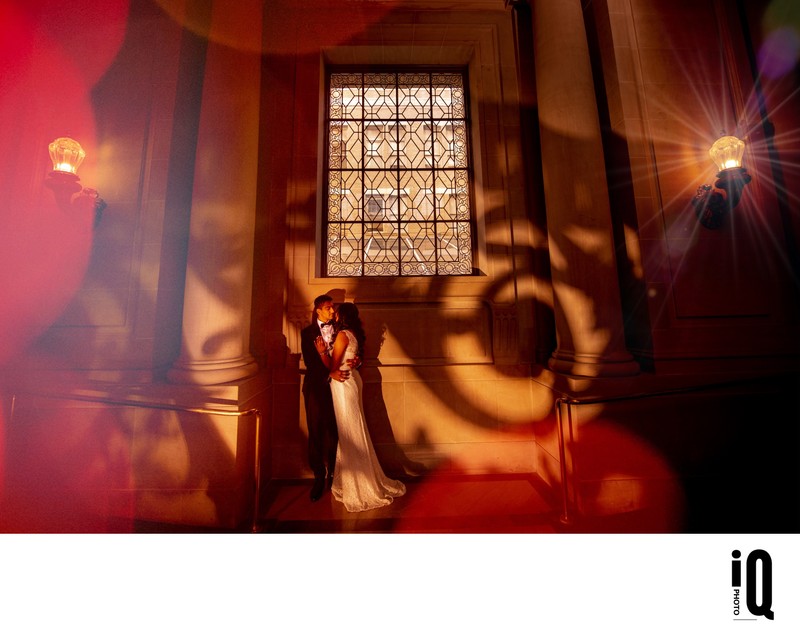 Locations
The Rotunda | Main Ceremony location
The Rotunda, nestled in the heart of San Francisco City Hall and situated just above the grand staircase, is the central hub for most public San Francisco Courthouse wedding ceremonies. The remarkable photo opportunities available in this iconic location are truly spectacular!
Coolest perks? It is filled with soft light plus there are beautiful crystal chandeliers. It is standing right opposite the Mayor's Balcony which means that great photo backdrops are guaranteed.
---
Mayor's Balcony
The Mayor's Balcony is an exceptional viewpoint for capturing stunning photos within San Francisco City Hall, and it's no wonder wedding photographers absolutely adore it! By renting Mayor's balcony, you'll be treated to magnificent views of the intricate marble walls and the impressive grand staircase.
Undeniably, the Mayor's Balcony provides some of the most elegant backdrops for couples' photographs. Its standout feature, the iconic golden railings, adds a touch of sophistication that can truly elevate your wedding photos.
---
The 4th Floor - South and North
The 4th Floor Galleries are a visual delight, boasting a gentle color palette of ivory, white, and grey. Enhance this picturesque setting by incorporating vibrant colors with striking bouquets, floral arrangements, and bridesmaid dresses to create eye-catching contrasts. The spacious galleries can comfortably accommodate large wedding parties, and yes, the area is available for rent. By doing so, you can fully personalize your ceremony, hire your own officiant, exchange custom vows, arrange seating, and even bring in musicians.
The galleries can easily seat 60 guests, with chairs arranged to form a natural aisle for your grand entrance. There is also plenty of space for live musicians, a small table for cupcakes, champagne, and wedding gifts, and more. The North gallery is typically preferred over the South, as it offers softer lighting for your special day.
---


---
The Grand Staircase
The grand marble staircase, undeniably the centerpiece of San Francisco City Hall, is also its most frequently photographed element. Its remarkable beauty will captivate you from the moment you enter the building. Radiating majestic elegance and enduring sophistication, this architectural gem is often likened to the iconic staircase at the Opera de Paris.
A skilled San Francisco City Hall wedding photographer can masterfully capture stunning shots, even when other people are present in the background, ensuring that your memories of this extraordinary location are treasured forever.
---
The 3rd Floor
Compared to Grand Staircase and The Rotunda, South and North sides of the 4th floor, The 3rd floor is probably the most peaceful area in the building an excellent place to escape the crowds and busy areas (especially during City Hall events) and to get awesome portraits by the famous window.
---
The Main Door
Trained in Paris at the famed Ecole de Beaux-Arts, Arthur Brown Jr has designed San Francisco City Hall meticulously and with incredible attention to detail. One of the most striking features is the main entrance itself. Bedecked with intricate ornaments in gilded bronze, the iconic "City Hall" signage makes one of the most recognizable photo backdrops.
---
The County Clerk's Office
After your online reservation and during your booked time slot, you are allowed to take your wedding photographer near the the County Clerk Office.
This space may seem un-photogenic to an inexperienced wedding photographer. However, a professional photographer who has photographed hundreds of weddings there will know exactly which moments to capture during the wait time before the marriage license appointment..
---
The Old Elevators
City Hall elevators are exuding luxury and romance of bygone eras. Even the marble hallway with gleaming silver elevator doors looks gorgeous!
But the best photos can be made while the doors are open and the bride and/or groom are standing inside. We always try getting a shot inside these beautiful time capsules assuming we are alone.
---
Natural Light City Hall Photography
A unique example of Beaux-Arts architecture, San Francisco City Hall comprises acres of pearly white marble and elegant gilded bronze. Beauty is everywhere you look and natural light is filling the entire building.
Most of it is coming from numerous skylights. Stemming from the ceilings, the sun rays are spreading around and filling even the long hallways. On a sunny day, every corner is drenched in sunlight.
And when it is cloudy or foggy outside, crisp white surfaces are still bright. Ornate walls are constantly contrasted with bold shadows. This juxtaposition always creates awe-inspiring backdrops for your wedding photography.
---
Check Our Palace of Fine Arts page too or....
Some alternative locations to City Hall to consider in the midst of the Corona Virus.
---


WHICH PHOTOGRAPHY PACKAGE SHOULD YOU CHOOSE?

Clients who wish to have their ceremony appointment and marriage license signing photographed often opt for either a one or two-hour package. The initial hour is devoted to candid shots before the private ceremony, coverage of the actual wedding, group and formal photos afterward, and a selection of posed or semi-posed images of the couple throughout the building. This results in a beautiful documentation of the essential parts of your special day.
While we can capture plenty of memorable moments within the first hour, a second hour allows for a greater number of candid (or posed) photographs. Longer packages enable us not only to photograph essential aspects like the marriage license and ceremony but also to explore more locations, utilize natural light better, access previously unavailable areas, and enjoy increased flexibility. In essence, the more time we have, the more diverse the images will be.
Many of our creative light shots featured in our portfolio were captured during a two-hour wedding package. However, anything beyond two hours might be excessive for City Hall photography coverage alone. We recommend a four-hour package (with a customizable three-hour option) for couples interested in capturing bridal preparations, visiting additional locations, or having their reception documented.
Can't choose a bridal bouquet? Get some ideas here.
Wedding Photography by IQphoto
1941 Noriega St, San Francisco, CA 94122, United States, (415) 939-5877
Privacy Policy - Terms & Conditions