San Francisco City Hall Wedding Photographer
San Francisco City Hall has it all. It's incredibly beautiful and offers an easy way for couples from all around the world to get married. It also holds incredible value in our family. I got married there at a beautiful Rotunda, my brother got married there, two of my friends got married there and I have witnessed and photographed countless weddings and met many unique and interesting people who traveled to tie the knot there from all around the world.

SAN FRANCISCO CITY HALL WEDDING PHOTOGRAPHY

Welcome to our San Francisco City Hall wedding photographer page. We create a meaningful story. For us, every wedding at SF City Hall is unique so the memories should be unique too. From the moment we meet you for the first time, we will focus on capturing the natural moments, real emotions, and family love. We adore documenting joy, happy tears, and laughter that make every wedding so special!
In addition to offering San Francisco courthouse wedding photography, we can also be your guides to help you with the check-in process, selecting perfect shooting locations, and even acting as your witness. All you need to do is bring a smile, relax and enjoy your big day.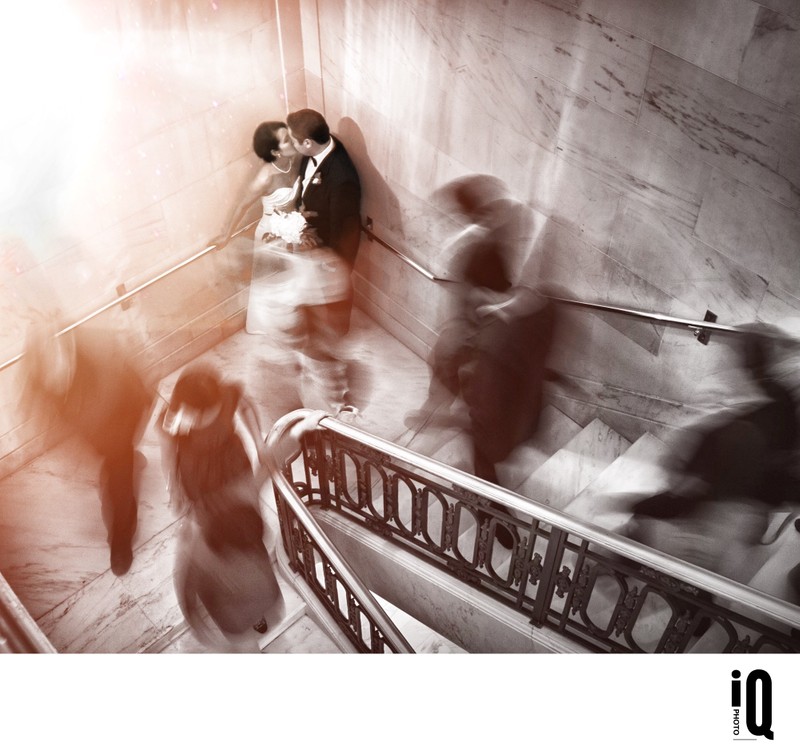 We offer a number of packages starting at $795 for a Ceremony and a few classic & posed portraits afterward. Please scroll down to see our pricing options. Feel free to take a look at our previous "How to get married at City Hall" guide. To see our larger City Hall Wedding Photography Portfolio, click here.
We photograph weddings all around the country, have traveled to four continents (see these Iceland elopements or this Rome wedding) but living in San Francisco, gives us an opportunity to participate in intimate weddings we so adore not to mention we had two family weddings at City Hall ourselves.
San Francisco City Hall Photo & Video Packages
---
Package 1 - $995 - This package is designed for couples who prefer a simple wedding experience. It includes coverage of your wedding ceremony during which we will capture the couple and the wedding participants. All high-resolution files that were taken during the actual civil San Francisco courthouse wedding ceremony, as well as the five high-resolution formal or posed files, will be available for download. This package does not include the signing of the marriage license.
---
Package 2 - $1,195 - In addition to capturing the wedding ceremony at the Rotunda, we will take some pre and post-ceremony candid photos including inside the County Clerk's office (to capture a marriage license signing). After the public or private ceremony appointment, we will spend time taking more photos (based on the client's preferences) around the building to take advantage of the beautiful backgrounds City Hall offers. All files will be available for download. One Hour of coverage is included in this package.
---
Package 3 - $1,695 - This package is similar to the above package. However, additional time helps to take full advantage of all four levels of San Francisco City Hall. It was created for those who admire unique San Francisco City Hall architecture and want more photos taken in there or prefer to visit another location within this longer time frame. All digital files/photos will be available for download. Two hours of photography included.
---
Package 4 - $2,695 - This option was created for couples who would like to get the photos of the bridal preparations, the first look, the wedding ceremony, additional location (ex: beach, park), and the reception. This package offers greater flexibility than previous packages. All files will be available for download. Four hours of photography are included and the package can be split for evening dinner/reception. Ex: ceremony in the AM and reception in the evening.
---
Package 5 (photo & video) - $3,390 - 2 Hours of photo and video coverage. All photos and highlight video is included. Additional time can be added at $600/Hr per service.
---
How to obtain a marriage license FAQ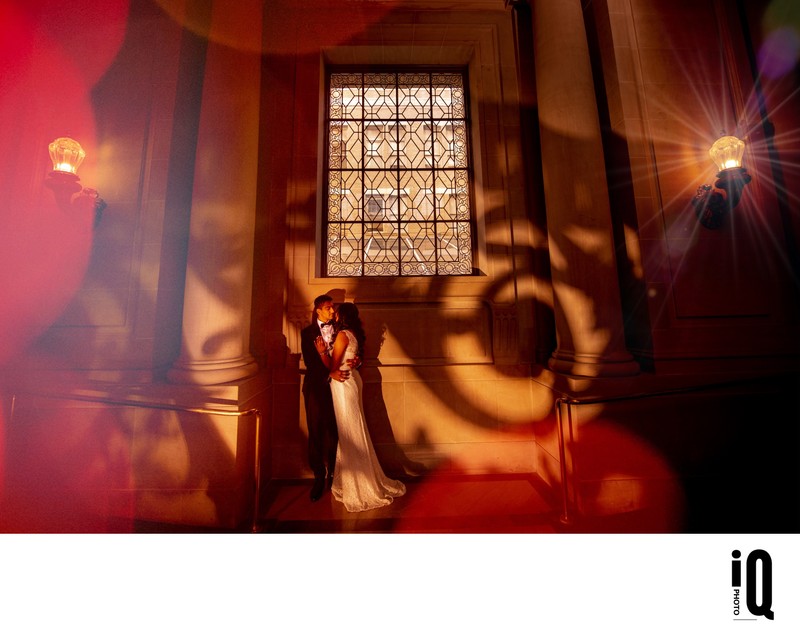 While San Francisco City Hall was closed we created an alternative list of local Bay Area venues that offer small weekday and weekend wedding packages. We also scouted parks, gardens and found many spots for a quick elopement.
City Hall Photography Locations
The Rotunda | Main Ceremony location
The Rotunda is the very heart of San Francisco City Hall located just above the main staircase. It is where the majority of public San Francisco Courthouse wedding ceremonies take place. Photo opportunities here are amazing!
Coolest perks? It is filled with soft light plus there are beautiful crystal chandeliers. It is standing right opposite the Mayor's Balcony which means that great photo backdrops are guaranteed.
---
More San Francisco Courthouse Wedding Locations
Mayor's Balcony
Mayor's Balcony is a fantastic vantage point from where you can capture the most beautiful photos of San Francisco City Hall. That's exactly why wedding photographers love it so much! Book a City Hall civil ceremony here and you will get gorgeous views of the ornate marble walls and the grand staircase.
Without a doubt, it offers the most elegant backdrops for the couple's shots. Its unique feature is the iconic golden railing which can really stand out in your wedding photos.
---
The 4th Floor - South and North
The 4th Floor Galleries are visually intriguing! The color palette is comprised of soft, natural shades of ivory, white, and grey. To make it even more picture-perfect, you can add some vibrant colors! Vivid bouquets, floral arrangements, and bridesmaid dresses will create wonderful contrasts. And a large wedding party can easily fit in there. Yes, this area can be rented. You will have full control over the ceremony and will be able to hire your own officiant, share your personal vows, get a sitting arrangement and even hire a musician.
Here you can easily seat 60 guests and the chairs are forming a natural aisle for your big entrance. Additionally, there is also ample space for live musicians, a small table for cupcakes, champagne, wedding gifts, etc., North is usually proffered than South as it offers a softer light.
---


---
The Grand Staircase
The impressive marble staircase is the centerpiece of San Francisco City Hall and its most photographed feature. Its extraordinary beauty will strike you as soon as you walk into the building. Exuding regal elegance and timeless style, this architectural masterpiece is often compared to the iconic staircase at the Opera de Paris.
Even if there are other people in the background, a skilled San Francisco City Hall wedding photographer can still make a few good shots.
---
The 3rd Floor
Compared to Grand Staircase and The Rotunda, South and North sides of the 4th floor, The 3rd floor is probably the most peaceful area in the building an excellent place to escape the crowds and busy areas (especially during City Hall events) and to get awesome portraits by the famous window.
---
The Main Door
Trained in Paris at the famed Ecole de Beaux-Arts, Arthur Brown Jr has designed San Francisco City Hall meticulously and with incredible attention to detail. One of the most striking features is the main entrance itself. Bedecked with intricate ornaments in gilded bronze, the iconic "City Hall" signage makes one of the most recognizable photo backdrops.
---
The County Clerk's Office
After your online reservation and during your booked time slot, you are allowed to take your wedding photographer near the the County Clerk Office.
This space may seem un-photogenic to an inexperienced wedding photographer. However, a professional photographer who has photographed hundreds of weddings there will know exactly which moments to capture during the wait time before the marriage license appointment..
---
The Old Elevators
City Hall elevators are exuding luxury and romance of bygone eras. Even the marble hallway with gleaming silver elevator doors looks gorgeous!
But the best photos can be made while the doors are open and the bride and/or groom are standing inside. We always try getting a shot inside these beautiful time capsules assuming we are alone.
---
Natural Light City Hall Photography
A unique example of Beaux-Arts architecture, San Francisco City Hall comprises acres of pearly white marble and elegant gilded bronze. Beauty is everywhere you look and natural light is filling the entire building.
Most of it is coming from numerous skylights. Stemming from the ceilings, the sun rays are spreading around and filling even the long hallways. On a sunny day, every corner is drenched in sunlight.
And when it is cloudy or foggy outside, crisp white surfaces are still bright. Ornate walls are constantly contrasted with bold shadows. This juxtaposition always creates awe-inspiring backdrops for your wedding photography.
---
Check Our Palace of Fine Arts page too or....
Some alternative locations to City Hall to consider in the midst of the Corona Virus.
---


WHICH PHOTOGRAPHY PACKAGE SHOULD YOU CHOOSE?

Clients who require the San Francisco Courthouse Wedding Ceremony Appointment and the signing of the marriage license to be photographed, usually pick either a one or two hours package. The first hour is dedicated to candid photography before the private ceremony, the coverage of the actual wedding ceremony, the group and formal photos afterward, and to a few posed/semi-posed images of the couple around the building. The result is documentation of the essential part of the wedding day.

While we can do a lot in the first hour, the 2nd hour results in an increased number of candid (or posed) photos. With longer packages we are able not only to photograph the essentials such as marriage license and the ceremony portion but to visit more spots, better use the natural light, visit previously unavailable locations and overall have more flexibility. To put it simply: the more time we spend, the better the image variety will be. A lot of creative light shots in our portfolio were taken within the 2-hour wedding package. However, anything beyond 2 hours would be too much for just the City Hall photography coverage. We recommend 4 hours package (we can customize 3 hours as well) for those couples who would like to capture the bridal preparations portion, considering visiting an additional location or plan to have a reception captured. We also offer 8 hours weekday elopement coverage for $4450. Contact us for details.
Can't choose a bridal bouquet? Get some ideas here.
Wedding Photography by IQphoto
1941 Noriega St, San Francisco, CA 94122, United States, (415) 939-5877
Privacy Policy - Terms & Conditions