THE GRAND STAIRCASE – A #1 SPOT FOR A DRAMATIC BRIDAL PORTRAIT
A wedding photo at the Grand Staircase at San Francisco City Hall is a must for many couples. Ideally, you'll have a beautiful backdrop minus the crowds and you can get wonderful posed and spontaneous photos!
WHAT MAKES THIS LOCATION SO SPECIAL?
The impressive marble staircase is the centerpiece of San Francisco City Hall and its most photographed feature. Its extraordinary beauty will strike you as soon as you walk into the building. Exuding regal elegance and timeless style, this architectural masterpiece is often compared to the iconic staircase at the Opera de Paris.
Every couple who chooses to marry at San Francisco City Hall wants to make at least one photo at the majestic staircase. There is an abundance of natural light and beautiful interior features everywhere you look. And even if there are other people in the background, a skilled photographer can still make a few amazing shots.
HOW TO MAKE THE PERFECT PHOTO?
Even a simple posed photo in front of the gigantic staircase is bound to be a success. It is because the sun-drenched pink marble makes a wonderful backdrop! The best place to stand? If you can get a clear background, you can stand on top of the semicircular platform which is also ideal for ceremonies. If you want only the stairs to be your backdrop, you can even climb halfway to the top. The perfect pose? You can just stand next to each other, share a kiss or even sit down.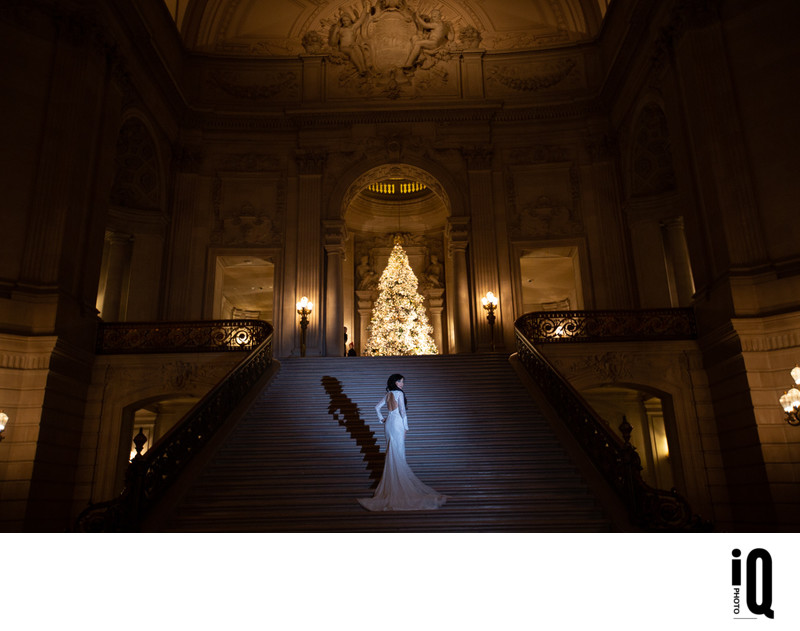 See also: The Rotunda, Mayors Balcony, 4th floor, 3rd floor, Front Door, County Clerk, Grand Staircase, Things to do after, Where to stay before the wedding, What to do if City Hall is packed, Candid photos, City Hall natural light, More City Hall guides.
If you prefer casual, photo-journalistic images, you can ask your photographer to capture the two of you in motion. Climb up to the top and start going down. Your photographer can try to make a couple of snaps in front of you and a few of them behind you. These images feel real and spontaneous, allowing the artist to capture a magical moment. However, posed images give you more control over important details like the position of your veil, the creases on your dress and the shape of your bouquet.