THE 4TH FLOOR CEREMONY (NORTH)
Providing a beautiful setting, privacy and seating for up to 60 guests, City Hall's 4th Floor Galleries are ideal for intimate wedding ceremonies.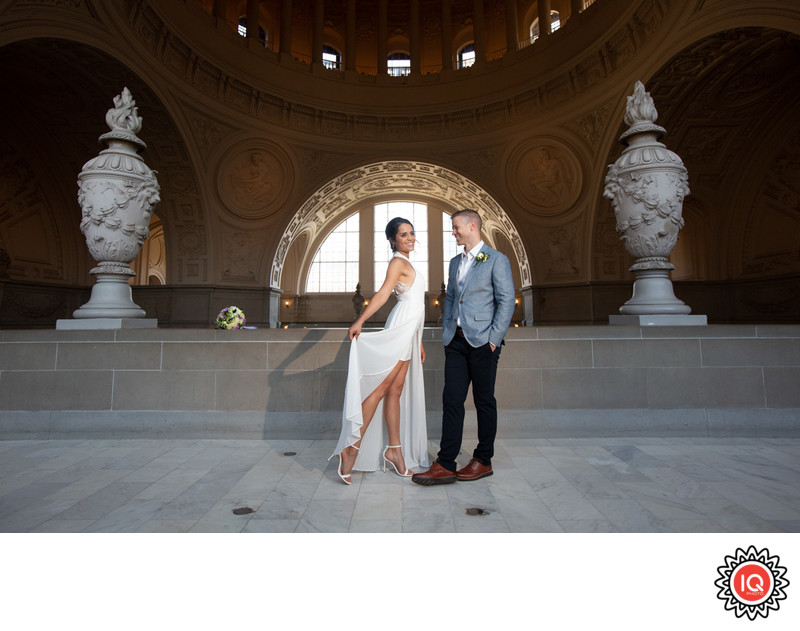 WHY 4TH-FLOOR WEDDING? – PHOTOGRAPHER'S VIEW.
As a photographer, my main goal is always to get the best possible photos for my clients. And while its often achievable without renting a space at city hall, under certain circumstances it is indeed recommended. But before dipping into photography aspects of this article, let's start with a general idea.
So, first of all, the 4th floor feels peaceful and secluded compared to other areas. Your guests will certainly appreciate the fact that you've invested in their comfort. Your timeline will not lag behind because the county clerk is behind the schedule and your family photo session will take less time.
On lower levels, it is harder to find clear backdrops without the crowds. While on the top floor, you can get a set of gorgeous wedding photos easier. It's truly a private environment where you will feel relaxed instead of rushing around and being confused about where to go and what do do next. You don't have to think about other weddings and you don't have to go anywhere to make top-notch wedding photography. The 4th floor is where you'll get those awesome shots of the bride and groom. Plus it is much easier to plan beautiful group shots with ample space in front of you.
The 4th Floor Galleries are visually intriguing! The color palette is comprised of soft, natural shades of ivory, white, and grey. To make it even more picture-perfect, you can add some vibrant colors! Vivid bouquets, floral arrangements and bridesmaid dresses will create wonderful contrasts. Here, you can easily seat 60 guests and the chairs are forming a natural aisle for your big entrance. Additionally, there is also ample space for live musicians, a small table for cupcakes, champagne, weddings gifts, etc..
4th-Floor Galleries offer views of the entire building. This means you can easily see which areas are available and plan shoots in other locations. For example, you can go to the 3rd floor and pose in front of the iconic Art Deco window or make a couple of shots at the Mayor's Balcony. Having your ceremony at one of the 4th-Floor Galleries, therefore, saves a lot of time.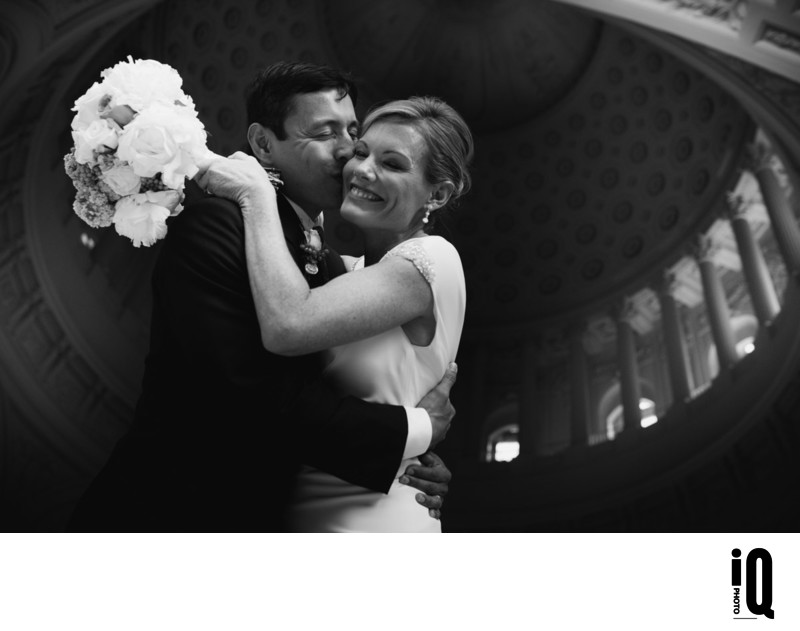 See also: The Rotunda, Mayors Balcony, 3rd floor, Front Door, County Clerk, Grand Staircase, Things to do after, Where to stay before the wedding, What to do if City Hall is packed, Candid photos, City Hall natural light, More City Hall guides.
Located directly underneath the dome, 4th Floor Galleries look truly spectacular. There is plenty of natural light flooding in from the gigantic semi-circular window. Depending on the weather, season and time of day, this space always looks different. It is both challenging and inspirational for a wedding photographer because the interplay of light and shadows is constantly changing. The most recognizable features are elaborately adorned urns which create perfect symmetry at both south and north galleries. These features make a wonderful backdrop for your ceremony, bride & groom portraits and group shots.
NORTH VS SOUTH
The south portion of the 4th floor gets more sunlight. This is an extraordinary photo shoot location which offers endless opportunities. We love photographing the window from different angles because it offers such versatile backdrops and lighting effects. But being on the south side also means experiencing higher temperatures and direct sunlight. This is why the north side is a more popular choice to book for your ceremony. This space equally stunning but slightly darker and cooler.
If you need more information on how to reserve the 4th floor North or need help on how to get married at the San Francisco Hall, we've put together this comprehensive guide for you. If you looking for a perfect SF City hall photographer, please review the available options here. We also have recommendations on hotels to stay prior to your City Hall wedding as well as on City Hall friendly restaurants.
For more information about 4th floor and it's floor plan, please visit the City Hall events page.