The Art of Capturing Love: A Photographer's Perspective on San Francisco Engagement Photography
San Francisco, the City by the Bay, is a treasure trove of stunning backdrops for engagement photography. Its scenic beauty, rich history, and diverse neighborhoods provide endless possibilities for creating extraordinary images. As a photographer, I have the privilege of not only capturing the love and connection between couples but also showcasing the breathtaking landscapes that make San Francisco truly unique.
San Francisco's Scenic Wonders
The city is brimming with picturesque locations for engagement photos, each offering its own charm and character. Baker Beach, with its postcard-perfect view of the Golden Gate Bridge, creates a dramatic backdrop, while the historic ruins of the Sutro Baths provide a unique and atmospheric setting. Couples seeking lush greenery and iconic landmarks can find them at Crissy Field, with its sweeping views of the San Francisco Bay. The grandiose columns and serene lagoon of the Palace of Fine Arts evoke an aura of classic romance.
San Francisco's dramatic coastline, rolling hills, and rustic wooden piers offer countless opportunities for capturing stunning images, lending a sense of adventure and whimsy to the photos. Meanwhile, the vibrant murals and lively streets of the Mission District give couples a dynamic, urban backdrop that showcases the neighborhood's artistic spirit and cultural heritage.
Connecting with Couples: Showcasing Love, Connection, and Emotion
As a photographer, my primary goal is to forge a genuine connection with the couple, allowing me to capture their love, feelings, and desires authentically. This connection is vital for creating images that not only showcase the stunning San Francisco backdrops but also reflect the unique bond between the couple.
By getting to know each couple's story, I can tailor the photo session to their personalities and preferences, ensuring the images are a true reflection of their love. From gentle guidance during the shoot to the careful selection of locations that resonate with the couple, every aspect of the engagement photography experience is customized to highlight the couple's connection and emotions.
A Timeless Memento
San Francisco engagement photography is a delicate blend of art, emotion, and storytelling. As a photographer, I am honored to capture these precious moments against the backdrop of the city's breathtaking landscapes and vibrant neighborhoods. By connecting with the couple and understanding their unique love story, I can create images that showcase their love and connection, immortalizing these cherished memories for years to come.
---
MY PACKAGES

- Package A: 2 hours of photography & color corrected hi-rez files - $1,500. Add $300 on weekend. $200 off for flexible rescheduling.
- Package B: 5-6 hours & color corrected hi-rez files - $3,500.
- Package C: 7-8 hours & color corrected hi-rez files + split for 2 days - $4,200.
* felxible rescheduling allows me to change the time or date of the session up to 7 days prior.
* Package C can be split between two days.
* Travel fees apply for areas beyond San Francisco.
Not sure about the package, location selection or what to wear? Schedule a phone consultation.
In addition to capturing your love story through my lens, I am here to assist you in every step of your engagement photography journey. From helping you select the perfect outfits that complement your personal style and the chosen location, to providing expert advice on the best weather conditions for your photo session. I can guide you on the most flattering dress styles and colors that will enhance your photographs. Together, we can create stunning images that beautifully reflect your unique love story, while making the most of the breathtaking San Francisco backdrops.


Engagement Photography Locations in San Francisco
With its tranquil beaches, beautiful parks, and stunning architecture, San Francisco is a photographer's paradise. You may be a nature lover or you may prefer urban landscapes, there is something for everyone.
Baker Beach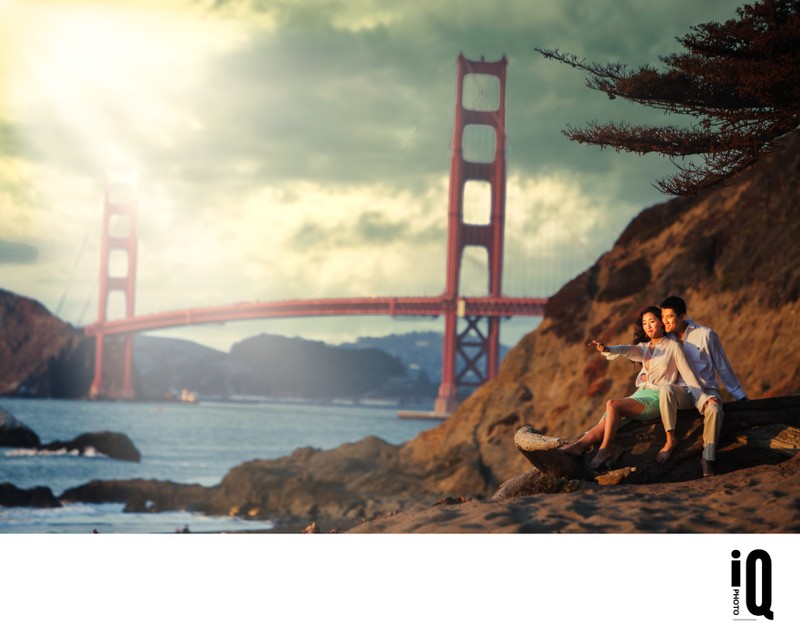 The famous Baker Beach is a very popular location for photoshoots and for a good reason. Its pristine powdery sands and amazing ocean vistas are a wonderful background. Of course, there is the bonus of getting the best view of the Golden Gate Bridge. The best time for wedding or engagement photo sessions at Baker Beach is early morning when there are fewer visitors. And don't worry too much about the weather, the beach looks spectacular in both sunny and foggy weather.
Sutro BathS
Moody and romantic, Sutro Baths is a truly unique location. The ruins of the old pools are part of San Francisco's history and offer majestic views. Overlooking the Pacific Ocean, this location provides a stunning color palette of vibrant blues and greens. The best time for a photo-shoot is during the golden hour or early in the morning if it is foggy outside.
Potrero Hill
If you want the finest views of the San Francisco skyline, go to Potrero Hill. It is located on the southeast side of the city and has incredible views. The city will be your backdrop. The best time to take photos there is on a clear and sunny day.
The Palace of Fine Arts, is a breathtaking palatial structure located in the center of a majestic park. This is a very versatile location where you can host your ceremony, reception, and photoshoot. A perfect blend of fin Beaux-Arts architecture and beautiful natural scenery, The Palace of Fine Arts is a popular wedding location. From the impressive doorway to the sparkly lake and ornate white columns, there is a range of gorgeous photo backdrops here.
Crissy Field
Located in the beautiful Presidio area, Crissy Field is an expansive park with a myriad of great photoshoot locations. Here, you can take a photo on lush green grass, at the beach or in front of the iconic café called 'The Warming Hut'. Inadvertently, you can see the most beautiful views of the Golden Gate Bridge too.
The Embarcadero
As a lively and picturesque waterfront hub of San Francisco, the Embarcadero is also perfect for wedding and engagement photos. You can pose in front of the gorgeous Ferry Building, at Pier 33, at Fisherman's Wharf, or at the Ghirardelli Square.
For shorter sessions, I suggest staying along the west coast of San Francisco around locations such as Baker Beach, Sutro Bath, Lands End, Ocean beach, etc., For longer sessions, locations in downtown can be added such as old piers around Embarcadero. There are countless beautiful spots and we will be happy to suggest a location that will fit your vision.
You'd be surprised but I don't need to spend 3-4 hours with the couple to get a basic set of portraits. Most of my clients hire me for 1-2 hours. Longer coverage will add more backgrounds, a change in lighting and may bring some unexpected photo opportunities.
San Francisco can be extremely crowded on weekends. If you can avoid them, the session most likely will be more efficient. Of course there always hidden spots but they usually require some hiking.
You will receive a set of high resolution images fully edited in Adobe Lightroom. Basic color correction and overall styling will be applied.
The answer to this question isn't simple. Number of delivered photos is less relevant as any modern camera can shoot 10-20 frames per second. What is more relevant is what WAS captured in these photos. Did they capture your story? Did they capture your energy and excitement or quiet love? Will you be able to make a coffee table book and each page will look different? This been said, a one hour session typically results in 150-300 images which mostly depends on the couple, time of day, background and individual preferences.
I try to deliver the photos ASAP but during high season it may take 4-6 weeks.