San Francisco Engagement Photography
If you are on this page, you are probably getting married and need a photographer who can take engagement photos for you and your fiancé in San Francisco or the surrounding area. If you are interested in engagement photography, stay here. If you are planning a surprise proposal, here is a more relevant page. Or scroll down and complete the form below.
Let's start with an introduction. My name is Josef Kohn. I am a San Francisco wedding, portrait, and engagement photographer. When it comes to engagement photography, my goal is to capture your love and connection and create candid images. I like to gently guide the couples I work with, but let them be in charge of their photo session. I believe that natural portraits are a top priority for most of my clients, followed by overall creativity. Of course, this varies from couple to couple and I am happy to adjust my photography style to best suit your needs.
Engagement (Proposal) Photography
If you are planning to propose and need help planning it, please fill out this form.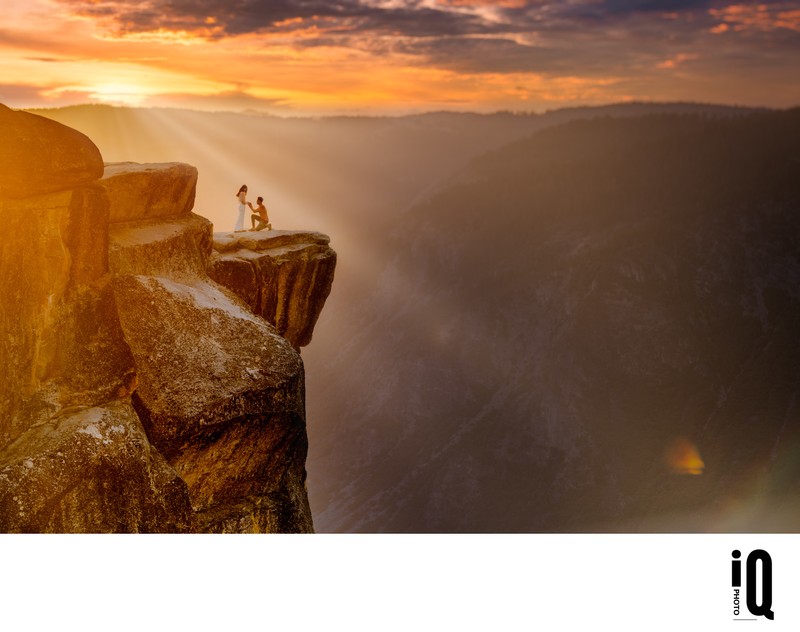 The majority of my clients trust my judgment when it comes to location and poses, but I welcome your ideas and suggestions and will prioritize communicating with you. If you want to know a little more about my approach, here is some feedback from Fiona, Donald, and Andy.

Of course, every couple is different; some are very outgoing and will need little or no direction. In that case, I just stay back and photograph their natural interactions. Others are more reserved and will refer to themselves as unphotogenic. These couples require a different approach and extra attention. I do not claim to be a magician, who will make everyone look great, but I can make everyone feel at ease and help couples choose the most flattering poses and angles. If you are on the reserved side, please read these reviews from Sandy, Mary, David, and Mark, who considered themselves camera shy.

Someone once told me that a good photographer doesn't make people look happy, he gives them a reason to be happy and that is exactly what I want to do for my clients. I love learning about my clients, their love stories, and their backgrounds. This knowledge helps me create something special from them. I am not afraid to explore and take unorthodox photos.
How I edit my sessions
I am not a fan on styling the photos in the same way for each and every couple. A lot of factors affect the way I edit them. The style can be dramatic and moody, bright and shiny, old film, etc., It's not set in stone. Couples are welcome to share their favorite style ideas and I will provide a feedback on a time of the day, location and weather in order to help achieve that look.
Here are additional reviews from Nicole, Tina, Andrea, Nick, Emily, Carmela, and Brinn
---
Engagement photography Prices
For weekday (add $200 for a weekend) engagement sessions we have three packages available:

A. 2 hours + hi-res files - $1,495.
B. 6 hours + hi-res files - $2,395.
C. 8 hours + hi-res files + 2 days - $2,895.
Proposal photography prices
A. $495 - weekday proposal. Including all images in high rez.
B. $695 - weekday proposal + few portraits.
C. $995 - weekday proposal + mini eSession.
Add $100 for a weekend proposal. Visit this page for more samples, locations and prices.


Engagement Photography Locations in San Francisco
With its tranquil beaches, beautiful parks, and stunning architecture, San Francisco is a photographer's paradise. You may be a nature lover or you may prefer urban landscapes, there is something for everyone.
Baker Beach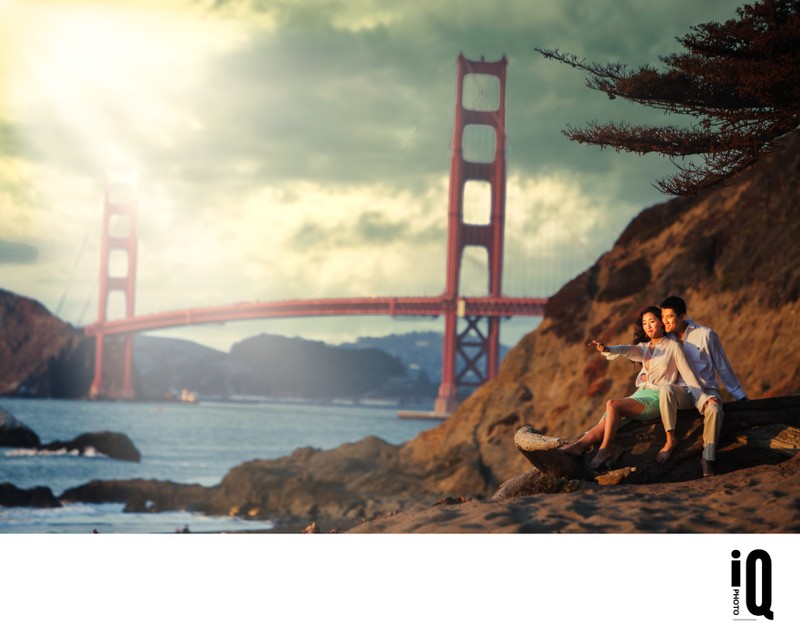 The famous Baker Beach is a very popular location for photoshoots and for a good reason. Its pristine powdery sands and amazing ocean vistas are a wonderful background. Of course, there is the bonus of getting the best view of the Golden Gate Bridge. The best time for wedding or engagement photo sessions at Baker Beach is early morning when there are fewer visitors. And don't worry too much about the weather, the beach looks spectacular in both sunny and foggy weather.
Sutro Bath
Moody and romantic, Sutro Baths is a truly unique location. The ruins of the old pools are part of San Francisco's history and offer majestic views. Overlooking the Pacific Ocean, this location provides a stunning color palette of vibrant blues and greens. The best time for a photo-shoot is during the golden hour or early in the morning if it is foggy outside.
Potrero Hill
If you want the finest views of the San Francisco skyline, go to Potrero Hill. It is located on the southeast side of the city and has incredible views. The city will be your backdrop. The best time to take photos there is on a clear and sunny day.
The Palace of Fine Arts, is a breathtaking palatial structure located in the center of a majestic park. This is a very versatile location where you can host your ceremony, reception, and photoshoot. A perfect blend of fin Beaux-Arts architecture and beautiful natural scenery, The Palace of Fine Arts is a popular wedding location. From the impressive doorway to the sparkly lake and ornate white columns, there is a range of gorgeous photo backdrops here.
Crissy Field
Located in the beautiful Presidio area, Crissy Field is an expansive park with a myriad of great photoshoot locations. Here, you can take a photo on lush green grass, at the beach or in front of the iconic café called 'The Warming Hut'. Inadvertently, you can see the most beautiful views of the Golden Gate Bridge too.
The Embarcadero
As a lively and picturesque waterfront hub of San Francisco, the Embarcadero is also perfect for wedding and engagement photos. You can pose in front of the gorgeous Ferry Building, at Pier 33, at Fisherman's Wharf, or at the Ghirardelli Square.
For shorter sessions, I suggest staying along the west coast of San Francisco around locations such as Baker Beach, Sutro Bath, Lands End, Ocean beach, etc., For longer sessions, locations in downtown can be added such as old piers around Embarcadero. There are countless beautiful spots and we will be happy to suggest a location that will fit your vision.
You'd be surprised but I don't need to spend 3-4 hours with the couple to get a basic set of portraits. Most of my clients hire me for 1-2 hours. Longer coverage will add more backgrounds, a change in lighting and may bring some unexpected photo opportunities.
San Francisco can be extremely crowded on weekends. If you can avoid them, the session most likely will be more efficient. Of course there always hidden spots but they usually require some hiking.
You will receive a set of high resolution images fully edited in Adobe Lightroom. Basic color correction and overall styling will be applied.
The answer to this question isn't simple. Number of delivered photos is less relevant as any modern camera can shoot 10-20 frames per second. What is more relevant is what WAS captured in these photos. Did they capture your story? Did they capture your energy and excitement or quiet love? Will you be able to make a coffee table book and each page will look different? This been said, a one hour session typically results in 150-300 images which mostly depends on the couple, time of day, background and individual preferences.
I try to deliver the photos ASAP but during high season it may take 4-6 weeks.