San Francisco Engagement Photography
If you found this page, there is a chance you are getting married and need a photographer who can take pre-wedding photos for you and your fiancé in San Francisco or Bay Area. These photos best known as engagement photos. If you are planning a surprise proposal, here is a more relevant page.
Hello! My name is Josef Kohn. I am a San Francisco wedding, portrait and engagement photographer. When it comes to engagement photography, I am aiming to capture a genuine connection and couple's love, while gently choosing the most elegant angle and ideal background.
Some people are very outgoing and will look great with very little or no posing. Their hugs, kisses and interactions will look so natural with very basic guidance. Others are shy and self-aware. These couples require different approach and extra attention. An experienced photographer not only can put these couples at ease but will also feel the best potential angle for these couples.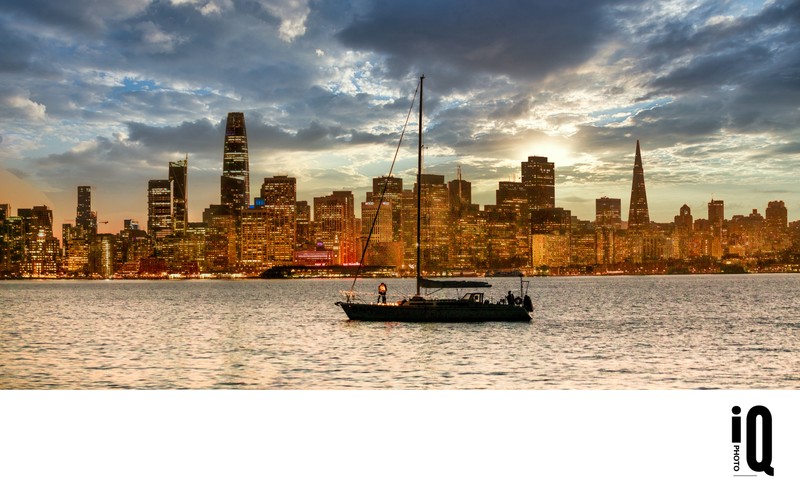 A classic example of the couple that easier to photograph will be if the guy is taller than his fiancé by few inches. This way the girl can curl right under his chin as many intimate variations of this shot can be taken effortlessly. But what if the couple has the same height or one of them has shorter neck? In this case some angles that work for the other couple may not look very elegant for this one if taken "as is". In this case, a set of clear instructions is required. For example I will most likely find a bench or a rock, position a couple very carefully, including adjusting hair, hands, chin angle, etc., to get the same beautiful result.
| | |
| --- | --- |
| | |
If I were to put a list of priorities of couples who choose me, I'd say their top one will be capturing them in a way that looks natural and genuine, followed by a creative overall composition. This, of course, varies as some of my couples want to prioritize the creativity or how great they look, and based on their preferences I can adjust my shooting style a bit in each direction.
95% of my couples simply trust my professional judgment when it comes to guidance, location selection, posing, etc., but I value communication, always welcome new ideas, and open to any questions. Here is feedback about my approach from Fiona, Donald, and Andy.
People often ask me about the overall process, the recommended duration of the session, when is the best time for it, the travel time between locations, and the choice of the outfit. I prefer to chat with each couple to understand their priorities so I can properly advise them. Here is my contact page if you have questions.
From time to time I work with shy couples. They often call themselves "unphotogenic". I am not going to say that I am a magician that will make everyone look great, but I believe I have a certain taste and can choose the best angles for each couple no matter how "unphotogenic" they think they are. Here are couple of reviews from people who considered themselves to be camera shy: Sandy, Mary, David (funny one), Mark.
Someone once told me that a good photographer doesn't make people look happy, he gives them a reason to be happy. After a lot of self-observation, I realized that I instinctively want to learn about my couples, what they love, what attracts them to each other, and much more. This helps me to create something special from them - not just another portrait.
Here what couples had to say about this: Nicole, Tina, Andrea, Nick, Emily, Carmela, and Brinn
I don't afraid to explore even if it results in a bad photo. I took plenty of bad photos in my life in order to learn and get better. It's often easy to take a "money shot" than to climb on a wet rock, have a couple posing at a specific spot, set up lighting, and wait for the right moment (ex: a flock of birds flying) but it can be very rewarding at the end.
---
Prices
For weekday off-season engagement session I charge $500 for the first hour and $200 for each additional hour. During high season, my fee is $1200 for a two hours session with $150 per additional hour. Clients receive edited high resolution images.
Engagement Photography Locations in San Francisco
San Francisco is brimming with inspirational and picturesque locations. Featuring tranquil beaches, beautiful parks and stunning architecture, its popular gathering spaces are very versatile. And its natural beauty is just as exciting as its colorful and dramatic urban landscapes.
Baker Beach
The famous Baker Beach is the most popular photoshoot location for a reason. With pristine powdery sands and amazing ocean vistas, it guarantees top-notch photography. Most importantly, you will get the best views of the city's iconic Golden Gate Bridge. The best time for wedding or engagement photo sessions is early in the morning when there are fewer visitors at Baker Beach. It looks spectacular in both sunny and foggy weather.
Sutro Baths
Moody and romantic, Sutro Baths is a truly unique location. Old bath ruins are steeped in history and offer majestic views. Overlooking the Pacific Ocean, this location provides a stunning color palette of vibrant blues and greens. The best time for a photo-shoot is during the golden hour or early in the morning if it is foggy outside.
Potrero Hill
If you want the finest views of the San Francisco skyline, go to Potrero Hill. It is located on the southeast side of the city and has incredible views. The city will be your backdrop and it looks it's very best on a clear and sunny day.
Palace of Fine Arts
At the Palace of Fine Arts, you can host your ceremony, reception, and photoshoot. It is one of the most popular wedding locations because it combines fine Beaux-Arts architecture and beautiful natural scenery. A breathtaking palatial structure is located in the center of a magnificent park. From the impressive doorway to the sparkly lake and ornate white columns, there is a range of gorgeous photo backdrops here.
Crissy Field
Located in the beautiful Presidio area, Crissy Field is an expansive park with a myriad of great photoshoot locations. Here, you can take a photo on lush green grass, at the beach or in front of the iconic café called 'The Warming Hut'. Inadvertently, you can see the most beautiful views of the Golden Gate Bridge too.
The Embarcadero
As a lively and picturesque waterfront hub of San Francisco, the Embarcadero is also perfect for wedding and engagement photos. You can pose in front of the gorgeous Ferry Building, at Pier 33, at Fisherman's Wharf, or at the Ghirardelli Square.