16th Avenue Tiled Steps Proposal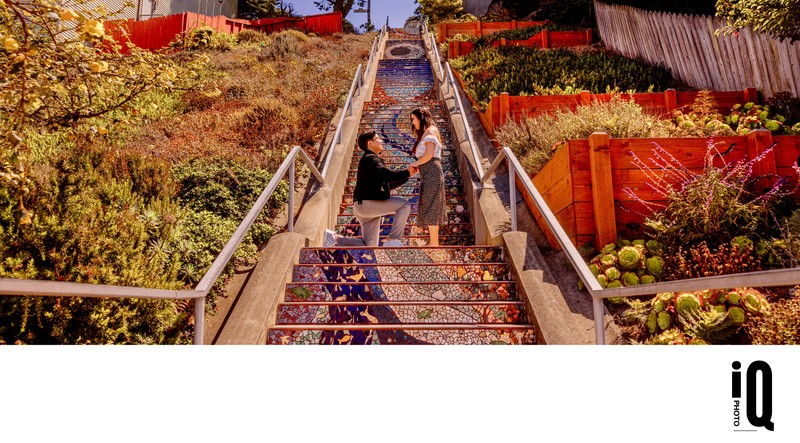 San Francisco, with its eclectic blend of natural beauty, vibrant culture, and architectural wonders, is a city that has long captured the hearts of lovers. For those considering taking that significant step and proposing, there is a hidden gem that might be the perfect backdrop for your big moment: the 16th Ave Tiled Steps.
Why the 16th Ave Tiled Steps?
Situated in the Inner Sunset and Golden Gate Heights neighborhood, the 16th Ave Tiled Steps are a mosaic masterpiece. This public stairway is adorned with colorful tiles, creating a cascading rainbow of artwork that seems to sing the song of love and connection. It's a unique and breathtaking spot that can make your proposal truly memorable.
Planning Your Proposal
Here's a guide to planning your proposal at the 16th Ave Tiled Steps:
1. Visit the Location: Explore the area, soak in the ambiance, and envision how you'd like the proposal to unfold.
2. Choose the Right Time: Sunrise or sunset? The soft glow of the early morning or evening sun can create a magical atmosphere.
3. Hire a Professional Photographer: Consider engaging a photographer who specializes in proposal or engagement shoots. They'll know how to capture the moment without intruding, preserving the surprise and emotion.
4. Prepare Some Words: Think about what you'll say. It doesn't have to be elaborate, but speaking from the heart will make the moment even more special.
5. Consider Privacy: While the steps are a public place, you can find quiet times, especially during weekdays or early mornings.
6. Have a Celebration Plan: Whether it's a romantic dinner or a gathering with close friends and family, think about how you'll celebrate afterward.
Connecting with the City
Proposing at the 16th Ave Tiled Steps is not just about the beauty of the location, but also about connecting with the spirit of San Francisco. The city is filled with diverse and vibrant energy, much like the mosaic tiles themselves, making it a fitting symbol for a loving relationship.
Final Thoughts
Choosing the right location for your proposal is more than just finding a pretty backdrop; it's about selecting a place that resonates with your unique love story. The 16th Ave Tiled Steps in San Francisco offers an inspiring setting that can elevate your proposal to a once-in-a-lifetime experience.
In a city that's home to the Golden Gate Bridge, beautiful parks, and bustling streets filled with history, culture, and romance, the 16th Ave Tiled Steps stand out as a poetic spot to ask that life-changing question.
Your proposal is a moment that will be etched in both your memories forever. Make it count, make it beautiful, make it uniquely yours, right here in the heart of San Francisco.