Japanese Tea Gardens Proposals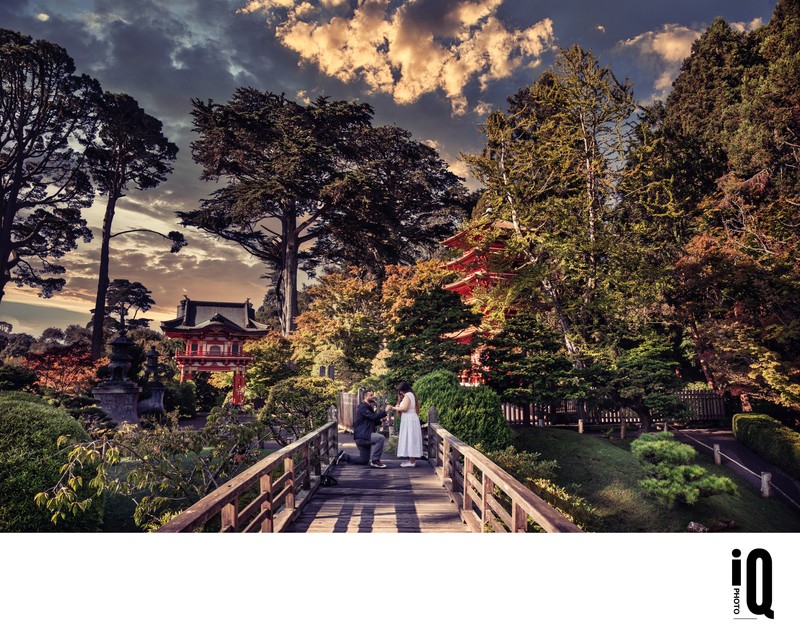 Capturing the Magic of Love: Marriage Proposals at the Japanese Tea Garden
As a professional photographer, I have had the pleasure of witnessing many couples' love stories unfold, from first looks to the first dance. But there's a unique and special kind of magic in being present for one of the most intimate and emotional moments in a couple's journey: the marriage proposal. One of my favorite locations to photograph these memorable occasions is the enchanting Japanese Tea Garden in San Francisco.
Nestled in the heart of Golden Gate Park, the Japanese Tea Garden provides a serene and idyllic backdrop for a proposal. With its lush greenery, tranquil koi ponds, and elegant pagodas, this picturesque setting imbues each captured moment with a sense of romance and mystique. In this article, I'll share my experiences and insights as a photographer, capturing the love and emotions that unfold in this tranquil haven.
The Importance of Preparation
A successful marriage proposal shoot at the Japanese Tea Garden requires thorough preparation. This includes scouting the location in advance to identify the perfect spot for the big question, ensuring adequate lighting, and coordinating discreetly with the couple to maintain the element of surprise. As a proposal photographer, my goal is to capture the moment in its purest form, reflecting the raw emotions of love, joy, and surprise.
Choosing the Perfect Spot
The Japanese Tea Garden boasts several charming spots ideal for a marriage proposal. The iconic Drum Bridge, with its striking red arch, makes for a visually stunning and symbolic location. The serene koi ponds, surrounded by vibrant blossoms and delicate footbridges, provide a sense of intimacy and connection to nature. For those seeking a more dramatic backdrop, the towering pagodas and meticulously manicured gardens provide a majestic and awe-inspiring atmosphere.
Capturing the Emotions
One of the most rewarding aspects of photographing marriage proposals is the privilege of capturing the genuine emotions that unfold during the event. From the nervous anticipation of the person proposing to the sheer surprise and delight of their partner, these moments are precious and fleeting. As a photographer, my aim is to encapsulate these emotions in each frame, creating lasting memories that the couple can cherish for a lifetime.
The Japanese Tea Garden's ethereal beauty and peaceful ambiance create the perfect setting for marriage proposals, allowing love to blossom and flourish. As a photographer, I am honored to play a part in preserving these once-in-a-lifetime memories, capturing the magic of love as it unfolds in this enchanting garden oasis.