Our thoughts on planning a wedding during the COVID-19 pandemic
Oh, Covid-19! You have wrecked our lives in more ways than we could have ever imagined: claiming victims, creating global panic, and bringing nations to their knees. Because of you we have lost loved ones, because of you our anxiety levels peaked, because of you we were separated from friends and family. And of course, you damaged our economy in a major way.
It is no secret that every sector of the economy has been affected, with small businesses being hit particularly hard. Of course, small businesses that service weddings are no exceptions. As early as the beginning of March brides and wedding professionals were worrying about upcoming nuptials. Cancellations or postponements were on everyone's minds. Here, in the Bay Area, shelter in place was implemented early so no one is getting married in March or April or possibly May.
No doubt this situation is stressful for brides-to-be, their partners, and families, but it is also causing havoc for small business owners who work within the wedding industry. Numerous cancellations and nonexistent new bookings impose a huge financial strain on wedding professionals.
The optimist in me wants to claim that couples will make up for it as soon as SIP is lifted and weddings will be happening left and right; however, the realist in me knows it will not happen so fast. Our lives will restart slowly; we will be extra cautious. Additionally, large gatherings may be banned for a while. It is likely that the wedding industry will be suffering for the rest of the year.
Social media groups for wedding professionals have multiple threads dedicated to this topic. Emotions run high because no one knows what the future holds. I will leave these discussions in specialized groups and shift my focus to the couples getting married in 2020.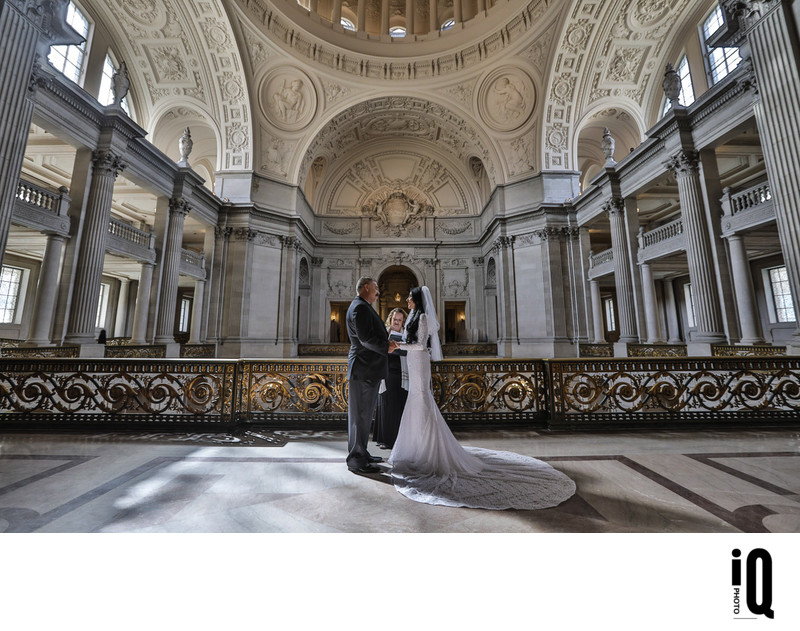 SF City Hall Mayor's Balcony
As a wedding professional, what advice can I give to couples who were planning to get married this year? A lot depends on what type of wedding you were planning to have. If you wanted to have a very large formal party with many out of town guests, it may be best to wait till next year, when, hopefully, a vaccine will be available. But if you are having a small wedding, it is probably ok to have a celebration this summer or early fall. Specializing in City Hall elopements, we always recommend having a celebration in the historic building. However, if you prefer an outdoor venue, Bay Area offers plenty of options.
If you do decide to cancel your original wedding day, allow yourself to grieve a bit. Yes, a global health crisis is much more important than a wedding, but this day was important to you and yours. You have invested time, money and emotions into your wedding planning; you were looking forward to your special day and you have every right to be upset. If you need to shed a few tears or have that extra brownie, go ahead and indulge yourself. Now, on to practical matters, here are some tips for those of you who choose to reschedule.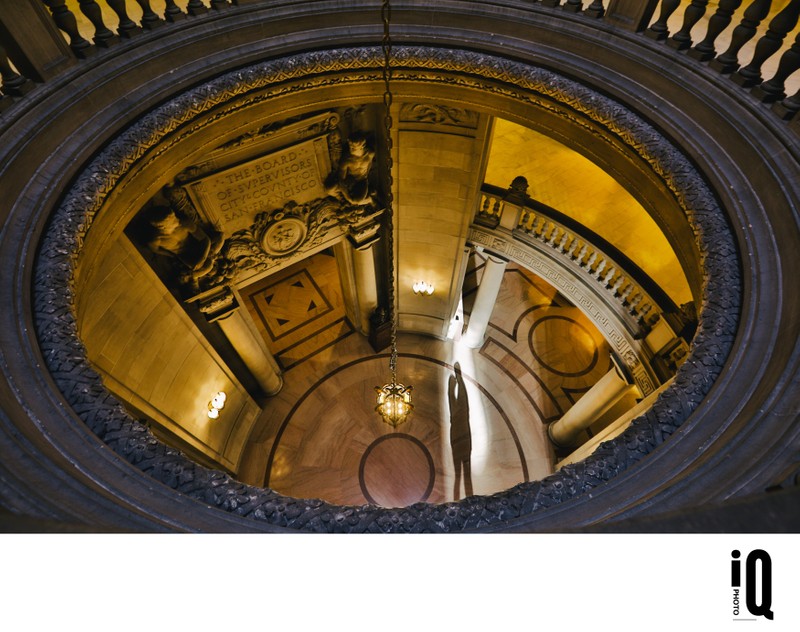 SF City Hall Rotunda
Communicate with Your Vendors
Please let your vendors know as soon as you can if your plans are going to change and we will work with you to find a different date. Keep in mind that there may be many others trying to re-book, so try to give your wedding vendors advanced notice. We will do our best to accommodate you, but please be patient. We are under as much stress as everyone else, working with anxious clients and not having an active income. Many of us have been impacted by school and daycare closures and have elderly relatives to take care of.
Get in Touch with Your Friends and Family
This is especially important if you have out of town guests coming; in this time of uncertainty, they need to know where they stand with travel plans. If you have a wedding website, you may want to utilize it to send a quick message to everyone at the same time. If you want to get more personal and give everyone a call or shoot an email, have your partner, or maybe your mom, do some of the work. Be Flexible and remember that your guests may not be available for your new date.
Consider Friday or Sunday
If you getting married at a really popular venue on Saturday and trying to re-book for another Saturday, keep in mind that the venue may already be booked. If this happens, consider Friday or Sunday as alternative.
Get in touch with your Insurance company
Reach out to your Wedding Insurance-if you purchased insurance for your wedding, now is the time to talk to them. Unfortunately, not every policy will cover a cancellation. For instance, if you purchased general liability insurance, you will not be covered. However, if you have cancellation coverage, your policy might cover a Covid-19 wedding cancellation
Celebrate your Original Wedding Date
Your favorite restaurant is probably closed, but why not treat yourself to the best take out in town? While you are at it, get your fanciest plates, open that expensive bottle of wine, light the candles and watch a movie. Of course, this does not compare to a wedding, but desperate times call for desperate measures.
As I was writing this post, I learned about something completely new, zoom weddings. Certainly, this option is not for everyone, but if you are keen on getting married this year and you are ok with remote celebrations, you may want to think about it. Zoom is very easy to set up and use and you can get married in your living room with your friends and family cheering you on from their homes. Since gatherings under 10 people are ok in most places, hiring a photographer for your Zoom powered wedding is still an option. Don't worry, most of us can take pictures from 6 feet away!
Some final thoughts: it is, unfortunately, not clear when life will return to normal. If you were planning to get married in the year 2020, no doubt you have thought of postponing. The ultimate wedding planning guide, the Knot, recommends postponing weddings through June and considering postponing July and August weddings. If you were to ask me, I would recommend shifting your focus to smaller weekday weddings. As I already mentioned, San Francisco City Hall is always a great option and this year it is going to be a lot less crowded due to a lack of tourism. Consider having an intimate wedding celebration with a few closest family and friends and of course, hire a professional wedding photographer to document your special day.